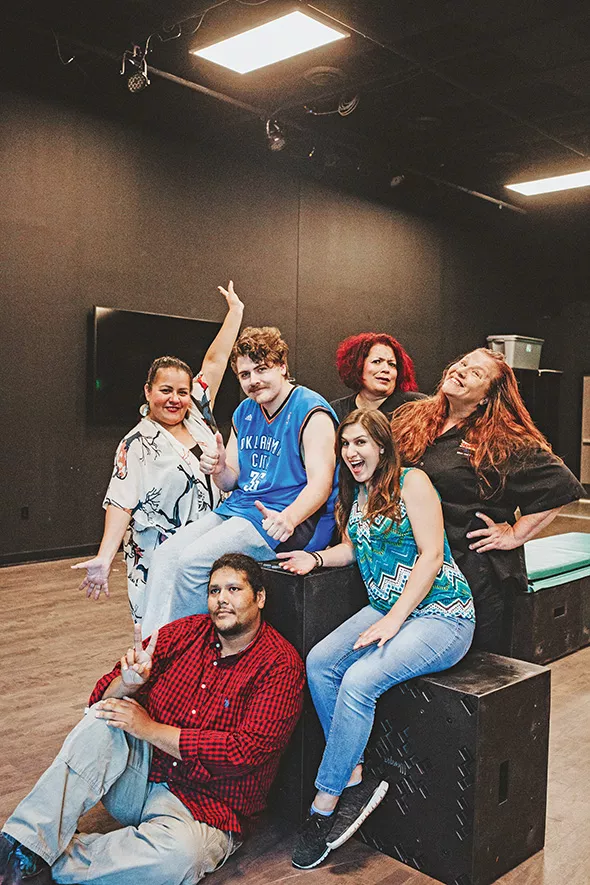 Alexa Ace
clockwise from bottom Johnlee Lookingglass, Summer Morgan, Cody Tabor, Tiffany Tuggle, Carolyn Dunn and Misty Red Elk take a break from rehearsing for Neechie-Itas, the featured play at Oklahoma Indigenous Theatre Company's 2019 Native American New Play Festival.
2019 Native American New Play Festival
June 20-22 and 27-29
University of Central Oklahoma
100 N. University Drive, Edmond
okindigenoustheatre.com
Free-$25
Celebrating its 10th annual festival and first as an independent theater company, Oklahoma Indigenous Theatre Company's 2019 Native American New Play Festival presents a female-driven buddy comedy full of pop-culture references.
Director Tiffany Tuggle said Neechie-Itas, the featured play at this year's festival, could, in some ways, be compared to Orange Is the New Black, and its four female leads are kind of like "a little bit younger, Native Golden Girls" and should be relatable to everyone regardless of their heritage.
"It's about these four women who had a falling out 10 years ago because of a misunderstanding and because of not trying to hurt somebody, trying to protect people," Tuggle said. "That's something we all do. We try to protect other people, so we don't always tell them the truth, and that almost always ends up biting us in the butt later. … That's what I think is really beautiful about this piece because it deals with a lot of issues going on on the reservation, so there's a part of the story that you may not know and you don't relate to, but it's an opportunity for you to learn a little bit more about, but at the same time, you can still relate to all the characters and all those other issues."
The play, written by Winnipeg, Manitoba-based Anishinaabe playwright Jo MacDonald, is scheduled for six performances 8 p.m. June 20-22 and 27-29 at the University of Central Oklahoma's Mitchell Hall Theatre, 100 N. University Drive, in Edmond.
Named for the Anishinaabe word for "friend," Neechie-Itas tells the story of estranged friends who hope to reconnect with a night on the town and end up in jail. Carolyn Dunn, who plays the role of Spencer Houle, said she really appreciates the way MacDonald references Star Wars, Pride and Prejudice and Jane Eyre to show that indigenous people are active participants in culture.
"She really wanted to present indigenous people as we really are," Dunn said. "We do have interest in the Brontës and their writing. We do have interest in Jane Austen. We do go to sci-fi conventions. We are nerds just like everybody else."
Misty Red Elk, who plays Maggie Dunning, said this is the 27th production she has worked on in some capacity, but the first with a contemporary setting.
"I've never seen anything like this in all the stuff I've ever done, these strong women with these voices," Red Elk said. "I have a line that says, 'Open your door, biatch!' And at the first rehearsal … I'm like, 'OK, I'm going to have to work on my inflection on that because I've never said anything like that.'"
Following last year's featured play, Arigon Starr's Round Dance, Neechie-Itas is the second comedy the festival has staged. Red Elk said she is glad to do something fun when so much of current reality is so disheartening.
"The world is so negative right now in the political world, everything is just dreary," she said. "There seems to be this division, even within our own community … so let's make it lighthearted and not make it so heavy."
Dunn, whose character left the reservation after her fiancé who stole money from the tribe abandoned her, said Neechie-Itas does discuss some serious themes.
"What I love about this play is that there's so much humor, but there's a little darkness in it, too, especially the idea that indigenous people do take advantage of each other," Dunn said. "That's kind of contrary to trope. It's always like, 'Oh, you know, the Native people are peaceful and loving. Well, we learned how to do bad things to each other."
Red Elk, who describes her character as a "sweetheart" with "a lot of integrity" said she relates to the play's underlying themes of miscommunication and broken relationships.
"I'm half Native American, so I grew up with a lot of dysfunction," she said. "I've been around alcoholism and things most of my life. So one night in rehearsal, it just took me to tears because the arguments are so intense, the way that we talk to each other, and it got so real. It shows that sometimes communication between Native American people — I'm sure it's that way with all people — sometimes we say one thing and we don't really hear what the other person is saying because we're not listening."
Alexa Ace
Carm Tadoule (Summer Morgan) is interrogated by Officer Bradburn (Johnlee Lookingglass) in Neechie-Itas.
In indigenous communities, Tuggle said, dark comedy is a coping mechanism for dealing with disappointment, injustice and heartbreak.
"That's how we survive," Tuggle said, "learning how to laugh through the pain and sadness. You have to learn to just, like, make a joke."
Dunn agreed.
"You just have to have a really wicked sense of humor," she said.
In addition to Neechie-Itas, the festival also features staged readings of two plays — Three Sisters by Dunn and Bound by Tara Moses — in UCO's black box theater. In accordance with the festival's tradition, one of these two plays will be selected as the featured play at next year's festival and staged as a full production. An exhibit of traditional and contemporary art will be on display outside the theater.
Changing lives
When Oklahoma Indigenous Theatre Company announced its independence from Oklahoma City Theatre Company (OKCTC) last year, Maya Torralba (who plays the role of Linda Shepard in Neechie-Itas) told Oklahoma Gazette she hoped to find a larger space than the City Space Theatre at Civic Center Music Hall, where the festival was previously held. UCO theater arts department chairperson Kato Buss, who reached out to the company's artistic producer Sarah dAngelo after reading the Gazette article, stressed that the festival is not a co-production though it does involve UCO students.
"I'm not really sticking my nose in the creative process," Buss said. "They've got their own thing; they have their own nonprofit organization. … Sarah and I have been calling it a partnership because, hopefully, it's a longer-lasting thing … that strengthens this bond for the betterment of the community, for the public good. … We're really thrilled how it's working out, and the vibe seems to be really good."
The festival also includes a workshop for students from Anadarko's Riverside Indian School based on Brazilian theorist and activist Augusto Boal's Theatre of the Oppressed.
"Boal really looked at theater as a methodology of social change and how you could bring about social change," said Dunn, who will be helping run the workshop, "how you could shift power structures to people that didn't have power and how theater in that medium gave them the power to rise up and be able to create that change. And so he developed this whole school of theater on how to do that and how to go into communities that are historically underserved, under-represented, teach these techniques to the community, and then the community devises a piece all together."
Tuggle said inspiring youth involvement is a big part of the festival's mission.
"I think that's exactly what we're here for is to change lives, and theater can do that," she said. "Those kinds of workshops can really do that, and they're really important. I think that's what we're all about."
Alexa Ace
Carolyn Dunn, Cody Tabor and Johnlee Lookingglass rehearse Neechie-Itas.
While Dunn and Tuggle both have theatrical training, Red Elk said she has learned how to work on productions on and offstage by helping with the festival as an actress, stage manager, costume designer and whatever else has been needed for the past decade. Whether students or adult amateurs, aspiring actors, stagehands or playwrights, Red Elk said the festival exists to get more indigenous people involved in the theater.
"We are just people that love what we do, that came together to try to keep this alive," Red Elk said. "We just ask for people to send, almost like their homemade plays, and … we take them and get them ready."
Though Tuggle has directed staged readings in years past, Neechie-Itas will be her first time directing a full production for the festival.
"I'm really proud to be able to have this opportunity," Tuggle said. "I'm really honored that they chose me to do it. I think I'm up for it. I think the script is good. I think I have a good cast. I get to work with amazing people with amazing facilities."
Tuggle, who has less life experience and, in some cases, less theatrical experience than her lead actresses, said she is very open to learning from them.
"They have a wealth of different experiences," Tuggle said. "They're all very different personalities, just like the women in the story. And it's lucky because it's a shorter play; we can take the time and we can really discuss some things. And so yeah, I'd be like, 'OK; let's hash this out. What do you think that means?'"
Tuggle's direction, like indigenous theater in general, Dunn added, "is very much collaborative."
"People have said to me before, working with a Native director and a Native cast is like nothing they've experienced," Dunn said. "What's really cool about this process is that she's running the show and she treats everybody as part of a team. She's very good about that."
Tuggle said she is doing what comes naturally to her.
"I never thought about that, but that is a very cultural thing because we're very much a village," Tuggle said. "We all want to work together for the betterment; no matter the roles or hierarchy, we're all in it together."
Tickets to Neechie-Itas are $25; admission to the staged readings and art exhibit is free. Visit okindigenoustheatre.com.