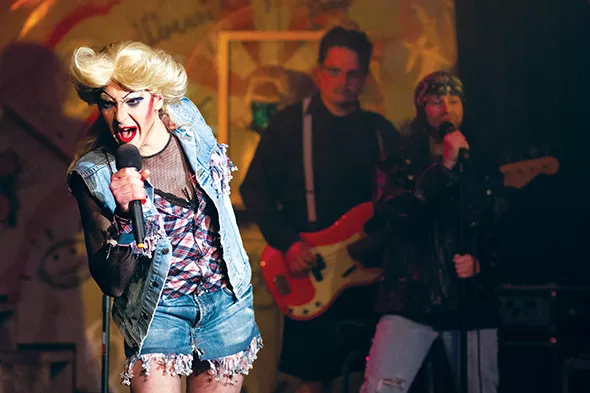 provided
Matthew Alvin Brown tried to retire from Hedwig and the Angry Inch, but she kept pulling him back in.
Hedwig and the Angry Inch first pinged on Matthew Alvin Brown's radar when the actor and Fellowship Students frontman was barely breaching his 20s. He had caught a performance in New York City of John Cameron Mitchell and Stephen Trask's musical/rock concert/one-person show and was enraptured by the frenetic energy, the daring innovation and, above all, the music. He hastily assembled a small production and began his first attempt at one of the most difficult roles in modern musical theater.
Sixteen years later, Hedwig has become a surprising annual tradition for Brown and, despite his earnest attempt to retire his wig last year, he was lured back for another run at Hedwig's old haunt, The Boom!
"It beats digging ditches," Brown said with a shrug.
Hedwig is the unlikeliest of unlikely musical icons. The German immigrant escaped the Iron Curtain by enduring a sex change that failed to take, leaving Hedwig disgraced and alone in Middle America. After she finds the love of her life, said love of her life steals Hedwig's songs and then achieves rock stardom. Our hero is again disgraced and alone in Middle America as the audience enters her tragedy during an off-the-rails performance in a dive bar. Tormented by the success of Tommy Gnosis, Hedwig reveals her story while misplacing her shocking venom onto her unwilling life partner/punching bag, Yitzhak.
Hedwig's relentlessly caustic and endearing character is why she has become a must-act for ambitious thespians alongside Hamlet, Willy Loman and The Incredible Hulk. I've seen Hedwig and the Angry Inch seven times (five with Brown in the title role), so here is my theory on why this play works: Strutting soundtrack, raucous comedy and tender tragedy all teeter on a tenuous balance that should collapse but doesn't. It's like watching a magic trick, and that has elevated this strange idea into something approaching phenomenon. Neil Patrick Harris has even played Hedwig, and I'm not talking "Whatever happened to that Doogie Howser kid?" NPH. I'm talking "Wait! The mother was dead this entire time?!" NPH.
Hedwig's ascension has also surprised Brown.
"I went to Walmart a few months ago," said Brown. "I have the 'Origins of Love' tattoo, and there was this guy who was a full-on 'brah' kind of guy and he was like, 'Hey, brah. What's up? Is that a Hedwig tattoo?' I said, 'Sure is.' 'Right on, brah.' So, that was different."
So somewhere in present-day America, a musical soundtrack about a transgender German immigrant is shuffled into the same Spotify playlist as Nickleback and Kenny Chesney. If this doesn't give you hope for humanity, then you are beyond salvation, my friend.
"I think Hedwig is one of those characters that if you just pay attention to her for a little bit, no matter where you came from or how you think, you will follow her," Brown said.
I'm gonna break with any pretext of objectivity and admit that Hedwig is the only musical to have ever made me cry, and just for context, my previous non-Hedwig public cry was when we buried my dead dog in the backyard when I was 11 years old. I do OK through "Origin of Love," a gorgeous song of once-bonded pairs of humans split in two by a callous god. The now-lonely humans must find their lost halves and make love to still their tortured hearts. I can survive "Wicked Little Town" and "Wig in a Box," but then comes "Midnight Radio," a powerful and rallying show closer where revelations are revealed, new paths are paved and cast and audience congeal into one emotionally charged being. It is like a spiritual cleansing, a rock baptismal. I feel intensely for this music in that adolescent chaos sort of way, where only your music collection understands you.
And to dispel claims of hyperbole, David Bowie once produced a run in Los Angeles, and a poster of Hedwig is currently hanging in the Songwriting Room in the Academy of Contemporary Music at University of Central Oklahoma (ACM@UCO), right alongside Iggy Pop and Elton John. So there.
In previous runs, The Boom! has proven an ideal venue for Hedwig and the Angry Inch because it eschews formality for a much more energetic atmosphere.
"What's great about The Boom! is you have all these different people there," Brown said. "There are people who think they are going to a drag show, there are people who think it's a play and others who think it's a rock concert. And there is also nowhere to escape to. You are all there in the play together, and that changes everything. The approach is less presentational and more punk rock."
For the last 10 years, Brown has been performing Hedwig alongside Renee Anderson as Yitzhak. Last year, he split the role with Jared Blount at The Pollard Theatre during his retirement tour. When he was yanked back out of retirement, he pulled Anderson right along with him.
"I'll do that show with Renee for as long as I can because she really knows her character and how I do my character," Brown said. "It's a Lennon/McCartney kind of thing."
Because this is a play where 99 percent of the dialogue is delivered by one character, it's not enough to look like Hedwig or sound like Hedwig or pout like Hedwig. Brown said you have to capture the humanity of Hedwig or you'll lose the audience.
Brown is uniquely qualified because he has actually been a rock singer, but also because he wrote and starred in his own rock musical, Rainbow Around the Sun. As a career actor, he has been fighting the same determined artistic fight as Hedwig. He not only has the vocal and dramatic range to match Hedwig, but also has the backstory to help him understand Hedwig.
"As you grow and feel things in life, adult things, the joys and the loves but also the angers and frustrations, the stakes get a little higher," Brown said. "When I was younger, I was more interested in playing for the camp, to get the audience on my side so I could pull the rug out.
"My focus now is to really make her as real and authentic and tragic as possible. The comedy and the humor will all be there, but I want her to be more of a multi-dimensional force, and that understanding comes with life experience."
Visit theboomokc.com.