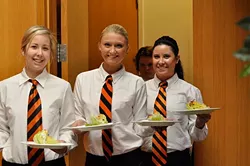 Next weekend's Wine Forum of Oklahoma, a project of the students of the School of Hotel and Restaurant Administration at Oklahoma State University, highlights approximately three dozen wineries around the world.
This year's event, with the theme Beyond Borders, offers the public educational seminars, wine tastings, live and silent auctions and opportunities to speak directly to the featured winemakers and professionals.
"We are highlighting the impact of Oklahoma in the hospitality industry outside the state," said Steve Ruby, a spokesperson and faculty advisor. "Our students and patrons [will have] access to a world-renowned chef in Kurt Fleischfresser and a standard-bearer for Oregon wines in Bill Stoller."
The forum is run by and for the students, Ruby said. The benefit is twofold: They gain practical experience in their chosen field of study and they work alongside and network with many of the biggest names in the hospitality industry.
"Our patrons, restaurants and wineries tell us that they love the forum," Ruby said. "But, overwelmingly, they say they are here for the opportunity to engage with our students."
Those students are in charge of nearly every aspect of the forum, and they are succeeding at tremendous levels, Ruby said.
The student committee grew by 100 percent between 2013 and 2015 and now includes 150 students.
Ruby also said that first-weekend ticket sales for this year's event have already outpaced ticket sales totals for the entire first month of the 2013 forum.
In fact, growth has been so unexpectedly brisk this year that too many wineries and restaurants applied to participate, which made for a welcome but difficult challenge for students as they put together the event lineup.
After a day filled with educational seminars, meet-and-greets, tastings and a luncheon, at 7 p.m., sixteen chefs from across the state — Oklahoma City, Enid, Tulsa and Stillwater — and their restaurants participate in the Grand Tasting, said Lyn Putnam, marketing advisor for the event.
And the 12:15 p.m. luncheon is anything but a brown-bag affair.
"This year, for the first time, we will also feature four lunch options for attendees," Putnam said, including fare selections by Fleischfresser and libations from Stoller Family Estate.
Thirteen educational seminar topics include everything from champagnes to chardonnays and even made-in- Oklahoma beers and wines.
A primary focus of the forums will be grape varietals, said Amie Hendrickson, seminar coordinator and certified sommelier.
"After varietal, the focus will be on winemaker and terroir (soil and place)," she said. "The seminars are geared toward consumers, but wine professionals will still be able to get something useful from the seminars, and everyone will have an opportunity to interact with owners and winemakers."
For more information, visit wineforumofoklahoma.com or email wfok@okstate.edu.
Print headline: Cork dorks, Wine Forum of Oklahoma brings together the public, OSU students and food-and-drink tastemakers for this daylong event in Stillwater.