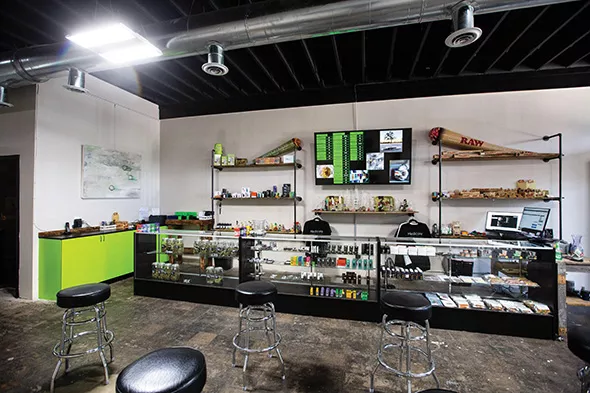 Alexa Ace
Project Releaf, 1218 N. Pennsylvania Ave., will be open 24 hours a day beginning in July.
The dog days of Oklahoma summer are now upon us, but there are fortunately a few metro medical cannabis dispensaries that stay open through the dead of night to serve those hoping to beat the heat and helping those who work shifts beyond the standard 9 to 5.
Project Releaf, 1218 N. Pennsylvania Ave., came under new ownership in the past month. One of the first things owner David Liebensohn did was modify the dispensary's hours.
Project Releaf's current hours are 9 a.m.-3 a.m. Monday-Saturday and 9 a.m-midnight Sunday, but the store will transition to a 24-hour schedule this month once more employees are hired and trained.
"As soon as we're able to function 24 hours, we're going to be doing it," Liebensohn said.
He anticipates the shift will occur by mid-month.
"People that hold graveyard shift hours and stuff like that, they want to come in and make purchases and have great pricing just as much as everybody else does, so we have to accommodate for them," Liebensohn said. "We first went from 9 [a.m.] to midnight, and then we're turning people away at midnight, so we decided to go with the 3 [a.m.] from there and we realized that even some days we were turning people away up until 3 [a.m.], so we just figured we would give the people what they want."
It was not until the last week of June that Project Releaf started staying open around the clock, but the word got around quickly.
"I have a knack for influencing and social media, so I kind of have an army of influencers and friends, the resources that I've gathered through my other business dealings," he said. "I just kind of reached out to everybody and turned it all to a 10."
Project Releaf has four tiers of flower, ranging from $6 a gram shake to the $18 a gram "ultra" shelf. It also carries a wide array of edibles, concentrates and vape cartridges as well as live clones. The adjacent tenant in the shopping center will be vacating its spot soon, and Liebensohn plans to open up the area and allow patients access to a live grow in the store.
"We want everybody to have the option for the value, and then, on the day that they want to splurge and get something from an ultra shelf, there's no other quality in the state that can match it," Liebensohn said. "That's where we want to be. We want to have both options."
It also offers 15 percent off the first purchase and two penny prerolls for first-time patients.
"If they come in on a day that we have a better deal, then we'll rain check on their receipts and then they come back and get that deal another time. So that way they don't miss out on anything," he said.
The later hours have already produced a tenfold uptick in sales, Liebensohn said.
Project Releaf is not his first business, but it is his first experience operating a dispensary.
"Anything could be done if the demand is there," Liebensohn said. "I've had experience with these types of things before, so I know how to adjust while we're waiting for all of those hours to be filled. It's going to take some time for us to be busy throughout the night, but since we're busy up until 3 [a.m.] right now, mostly, and I haven't even started advertising some of the ways that I can to reach out to the people that do work night shifts and stuff. I feel like it'll just take some time, but we're just going to jump in and do it. Everybody was going off of similar hours. We thought that there was a rule in place, but when we found out that there wasn't, we just went to our basic business experience and realized that if you could stay open and we're in central Oklahoma City, a highly populated area, we know how to advertise. We just figured we can we can make it work."
Alexa Ace
David Liebensohn, owner of Project Releaf
Time heals
Several miles north, in Edmond, Patient's Own Therapies (POT) owner Anthony Clark has already put this business model in practice in his dispensary.
POT, 821 Centennial Blvd., was previously open 6 a.m.-midnight.
"May 11 is when our grand opening was, and we did that for the first month. And then we decided to try to stay open 'til 4 a.m., and we did that for just a few days and then went ahead and bumped it up to 24 hours. So we've been at 24 hours now for about a week," Clark said on July 2.
It is now operating 24 hours a day, 7 days a week, including holidays.
"Almost every person that's heard has just been overjoyed that we're open that late, all hours," Clark said. "It's all kinds of waves and we're catching everybody super late and everybody's really happy about it."
Clark and best friend Jacob Garcia opened the dispensary together.
"We're kind of trying to cater to the working-man hours. The early mornings have been slow, but everybody late in the evenings and late at night, they really appreciate it because they're like, 'Man, when we get off work, nothing's open,'" Clark said. "Later in the evening times, we have the younger crowd from [University of Central Oklahoma] and all the universities close by. That seems to be the evening crowd. And then earlier in the afternoon and throughout the day is my generation crowd, the 40-year-olds or whatever coming either during work or before work or right after work. We've got a pretty diverse clientele. All of our patients are pretty across the board, honestly."
POT currently prices all of its strains of flower at $12 a gram and also stocks a wide variety of edibles, concentrates and vape cartridges.
"We have daily deals we do every single day. All new customers get 10 percent off, all military is 10 percent off, first responders 10 percent off," Clark said.
Additionally, one day a week, the store will offer 25 percent off 6 a.m.-midnight; that applies to anything in the store as well as a drawing that usually occurs on Sunday nights. If patients buy a POT shirt for $15, they will also get 15 percent off their purchases anytime they come into the store.
"We're a couple of blue-collar, real Oklahoma plumbers that are just doing our best to bring quality at a fair price," Clark said. "We're not looking to get rich here. We're just looking to provide people medicine and make a living. That's it."