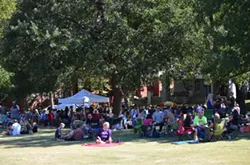 provided
Up to 2,500 people are expected to attend Mesta Festa 2017.
Nothing brings a community together quite like food, drink and family-friendly activities. This philosophy has proved pretty popular from Epicurus all the way up to the 22nd Annual Mesta Festa, which takes place Sunday at Perle Mesta Park, NW 18th Street and Shartel Avenue.
Noon-6 p.m., visitors to the free public event will have their choice among a plethora of food trucks, vendor booths and activities.
Some of the 11 food trucks in attendance include Junction Coffee, La Luna Cantina, Tasty Snow, Pizza 23 and Bacon N' Cakin'. Those 21 years old and older can purchase entry into the event's beer and wine garden for $20. The price also includes a collectible cup.
For younger attendees, Mesta Festa 2017 will also feature activities including face painting and outdoor games such as yard Jenga, said Jennifer Bowman, chair of the 2017-2018 festivals. The Downtown YMCA will host an obstacle course and jump rope competitions, and Oklahoma Children's Theatre will have performances and book readings.
The event will also feature live performances from the Thunder Drummers, Studio 7 dancers and musical acts Justin Joslin, Madison McCoy and Ben Freeman.
Attendees can browse 35 different table vendors, including Collective Thread, Trader Joe's and Oklahoma Shirt Company (one of the event sponsors). Mesta Festa T-shirts (including some vintage ones from years past) will be available for $10. Cards and cash will be accepted at the event.
"Funds raised at Mesta Festa, they benefit the Mesta Park Neighborhood Association (MPNA), as well as our community school, Wilson [Arts Integration] Elementary [School]," Bowman said.
According to Bowman, funds raised will go toward the park's picnic table areas, volleyball courts and gazebo. They will also be used to set environmentally conscious water limits for the sprinkler system.
Although Mesta Festa began as a gathering of neighbors on NW 16th Street drinking micro-brewed beer, Bowman said the event has transformed over the years. Attendance has ranged from hundreds of people up to about 2,500 attendees, Bowman said.
Small details, like the collectible beer cups, showcase the event's legacy.
"I've started noticing on Facebook, people are actually collecting them. It's an interesting collection item," Bowman said.
provided
Several area brewers and beer merchants will contribute to the beer garden at this year's Mesta Festa.
People, parks
Although the event celebrates all things Mesta Park, it also highlights the park's duality, a place for both neighborhood residents and the larger community. This openness is a hallmark of the park and neighborhood, according to Bowman.
"I think we've got a nice park. … We enjoy when people who don't live in our neighborhood come and use [it]," Bowman said. "We encourage kids' sports to come and use the open area for soccer. Outside time is valuable, especially for the kids. We want to do the best we can."
Print headline: Neighborhood traditions, With Mesta Festa 2017, Mesta Park continues a community tradition more than two decades old.