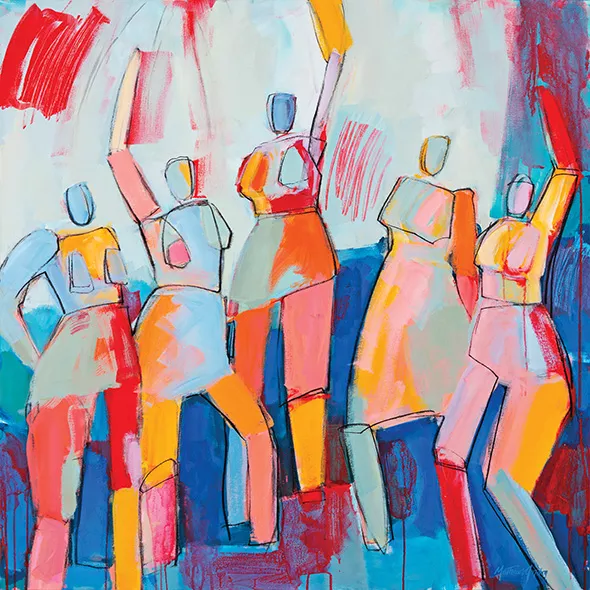 provided
"All My Sisters" by Janice Mathews-Gordon
All My Sisters
through Aug. 31
JRB Art at the Elms
2810 N. Walker Ave.
jrbartgallery.com
405-528-6336
Free
Some of the most memorable meals from Janice Mathews-Gordon's childhood are the ones her mother refused to make.
"My mother, I remember her going on strike when we were young," Mathews-Gordon said. "She quit cooking. She quit doing laundry. She quit doing everything. She'd had it. We kind of appreciated her more, and we picked up. My dad always mopped the floor, and we all did the dishes. I just grew up feeling like I could do what I wanted to do, and I am not hemmed in by those stereotypes. Sometimes it feels like the generation that came after me struggled with some of that more than we did, or maybe more than my family did. I'm not sure."
All My Sisters — on display through Aug. 31 at JRB Art at the Elms, 2810 N. Walker Ave. — features paintings inspired by family history and the persistence of the women's rights movement.
"I have four sisters and a feminist mother, so I grew up in a very female household, and I wanted to paint about them," Mathews-Gordon said, "so it's a show about them, but it's also show about women in general. I was so encouraged by the number of women who were elected to office. I just feel like there's an energy and a strength going forward from women in general."
Mathews-Gordon said the brightly colored abstract and impressionist paintings are "optimistic pieces about what women are doing right now, and where they're going and what they're achieving."
"She Sings," "She Speaks" and "She Laughs" have a more abstract, cubist look while "Proud Sisters," "Loud Sisters," "Strong Sisters" and "Wise Sisters" feature more clearly delineated human figures.
"At some point, when it was about women, I needed to put women in there," Mathews-Gordon said. "They are still abstract, but they're abstracted women. I did figure drawing for my whole life. I was a graphic designer, and one of my favorite things was drawing people, so I'm kind of going back to that a little bit. … I really wanted something more stylized, not real literal. I wanted it to have a feeling more than a literal representation."
"Making Waves" seems to portray a crowd of protesters holding picket signs. "The Source" appears to depict an older woman embracing or pulling up a young girl while many others watch; "Miles to Go" foregrounds two figures followed by a long line of others.
"That is a reflection of my mother and my grandmother and the women who have come before us," Mathews-Gordon said. "In that one painting, there's a lot of small figures that are women now following them. So they're not memories of specific events that happened in my life. It's more a reconstruction of how I grew up a little bit. There's one called 'Coming of Age' about me and my sisters at different times, and there's one that kind of refers to my daughter and a lot of young women and what they're doing and the marches that are happening. There's just a little bit of everything. It's positive and upbeat, and that's what I needed right now."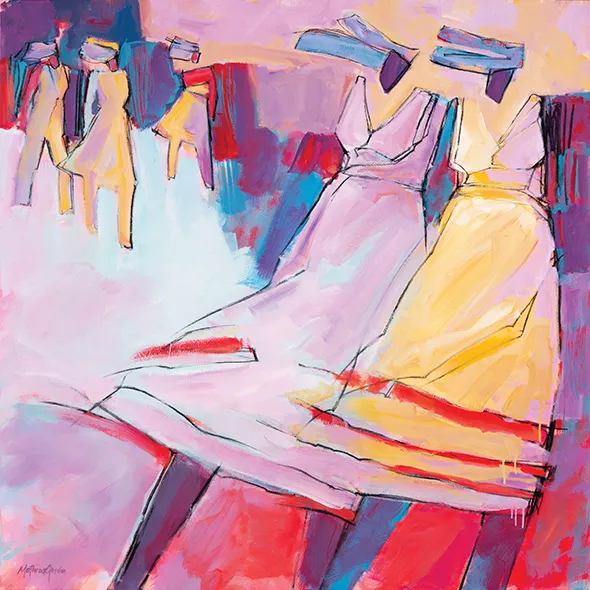 provided
"Against the Wind" by Janice Mathews-Gordon
Growing up during the civil rights movement of the 1960s with parents who worked as active participants helped shape Mathews-Gordon's view of American history and life in Oklahoma City.
"I went on marches as a child, and my mother was very outspoken for the [Equal Rights Amendment]," Mathews-Gordon said. "Even as a young child, I was very aware of what was going on in the country and the world. … When people tell me they had wonderful childhoods here, I always think, 'Well, where were you in the '60s and the '70s?' because there was a lot of negative stuff happening, too, that was kind of scary. … My dad was a delegate to the 1968 Democratic Convention. He was a delegate for Eugene McCarthy. My mother was an alternate delegate. As kids, I watched the Democratic National Convention on TV. I knew what was going on, and I was 10 years old then. … We would try to find our parents in the crowd."
Writing for Smithsonian Magazine in commemoration of the convention's 40th anniversary, political commentator Haynes Johnson described it as a "disaster" that left the Democratic Party "with scars that last to this day." Following the escalation of the Vietnam War and the assassinations of Martin Luther King Jr. and Robert F. Kennedy, who had recently won the California presidential primary, the party's nomination of establishment candidate Hubert Humphrey over antiwar candidates McCarthy and George McGovern was marked by bitter arguments in the convention hall and physical altercations in the streets.
"I was an eyewitness to those scenes," Johnson wrote, "inside the convention hall, with daily shouting matches between red-faced delegates and party leaders often lasting until 3 o'clock in the morning; outside in the violence that descended after Chicago police officers took off their badges and waded into the chanting crowds of protesters to club them to the ground. I can still recall the choking feeling from the tear gas hurled by police amid throngs of protesters gathering in parks and hotel lobbies."
provided
"Making Waves" by Janice Mathews-Gordon
Though growing up with parents who were "walking the walk" as activists could be frightening, Mathews-Gordon said, the paintings in All My Sisters celebrate the perseverance of her family and the ongoing fight for equality.
"I thought about how close my sisters and I are and the difficulties we faced, so I did focus on some of those childhood memories, but I also focus on what a strong family we were," Mathews-Gordon said. "And I see the young women now kind of picking up the charge, and I'm so excited about that. … My sisters and I still march together. Even though we're in different places, we march together when we can; we march separately. We're from the old-school '60s where you march when you care about an issue."
Divided, her previous exhibition at JRB, featured abstract interpretations of the deep fractures in the American political climate and included paintings "Nevertheless She Persisted" and "Silence Breakers," which inspired Mathews-Gordon to focus on the prominent role women play in progress, a theme she wants to continue to explore in the future.
"I think I'm going to keep painting women for a while, and I don't know where I'll take it from here," Mathews-Gordon said. "But I don't think I'm finished."
Visit jrbartgallery.com and mathewsgordon.com.