Kenny Johnson / provided
Laura Hunt played the title role in the Kansas City Ballet production of Alice (in Wonderland).
When the Mock Turtle and the Gryphon ask Alice to recount her adventures in Wonderland, she initially refuses.
"But it's no use going back to yesterday," Alice protests, "because I was a different person then."
Oklahoma City Ballet performs Alice (in Wonderland), adapted from Lewis Carroll's iconic fantasy books with choreography by Septime Webre and an original score by Matthew Pierce, who is scheduled to appear as guest conductor with Oklahoma City Philharmonic, Oct. 26-28 in Civic Center Music Hall's Thelma Gaylord Performing Arts Theatre, 201 N. Walker Ave.
Artistic director Robert Mills said OKC Ballet wouldn't have been able to stage something as large-scale as Alice when it first premiered at Washington Ballet's Kennedy Center.
"When this production debuted in D.C. in 2012, I really wanted to bring it to Oklahoma City, but in fact, our company had to grow," Mills said. "It had to grow in many ways. We would not have been able to rehearse the ballet in our old building. There are elements of the production that we would not have done."
For example, Alice features a large-scale Jabberwocky puppet created by theatrical designer Eric Van Wyk, which Mills said must be operated by "about six dancers at once."
"That wouldn't have even fit through the doors of our old building," Mills said.
The extensive cast of characters in Wonderland also requires a larger talent pool.
"In addition, our company had to grow," Mills said. "We needed more dancers for the task. So I'm glad that we've been able to grow the company to a point where we can do a production like this for Oklahoma City."
The production features 30-50 children selected from the more than 300 students attending the ballet's Yvonne Chouteau School.
"They're little piglets; they're Gerbera daisies; they're cards in the card deck; they're baby flamingos — they're all sorts of little characters," Mills said.
The children in the ballet get firsthand knowledge of working on a professional production with experienced dancers.
"Our professional artists that make up our company come from all over the world," Mills said. "They're adults whose very job is the work they do with us, and they work with us from 9:30 in the morning until 5 five days a week. When we have a production that utilizes children from our school, we shift the workweek to Tuesday through Saturday. That allows us to have a full day on Saturday with the kids from our schools so that we can incorporate them into the production … so that the children really, fully understand what it's like to be onstage with the entire company."
Giving younger dancers and audience members a chance to experience the ballet has been one of Mills' main goals since he became artistic director in 2008.
"One of my objectives since taking over the company 10 years ago was to not only build the audiences but to make the art form accessible to everyone and also to bring it to families and children," Mills said.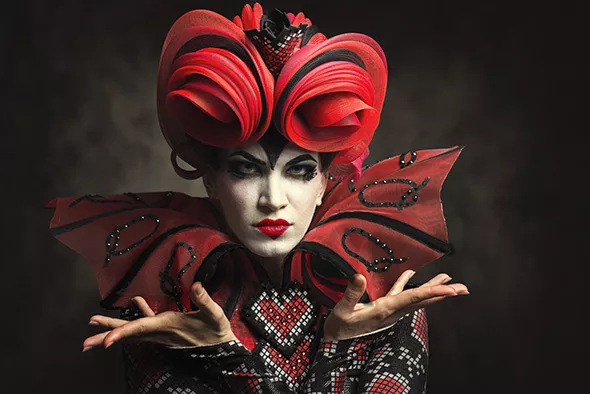 Kenny Johnson / provided
Angelina Sansone played the Red Queen in the Kansas City Ballet production of Alice (in Wonderland).
Fantastic journey
Alice, which has been performed in cities throughout the United States and recently had its Asian premiere at Hong Kong Ballet, where Webre works as artistic director, brings contemporary choreography and an original chamber music score to a well-known story with "really outlandish and over-the-top and colorful" costumes designed by Liz Vandal, best known for her work with Cirque du Soleil. Mills said the production gives audiences a chance to see the possibilities of modern ballet.
"A lot of people tend to focus only on where ballet has come from in its history," Mills said. "It is a very old art form, and it does draw from its past of classical music and tutus and tiaras. And we do all of that, but I want our audiences to understand that it can be current. It can be accessible, and this production of Alice (in Wonderland) that Septime Webre choreographed … for me, it just hit all of the right chords of what I wanted to accomplish here."
Though the production is contemporary, Mills said the story, drawn from Carroll's Alice's Adventures in Wonderland and Through the Looking Glass, remains timeless because of its appeal to the sense of adventure in grownups and children.
"As an adult, you can look back at those wide-eyed years of a child where you look to the future and you didn't know what unexpected journeys you were going to go on," Mills said. "You were still finding out about the world. To be a part of a story like this as a child, to see another child go through this fantastic journey, it's magic, and I think it stems from the fact that as youths, we have the rest of our lives to live. Our lives themselves are fantastic journeys … anything is possible."
Dancers Miki Kawamura and DaYoung Jung have both been cast in the role of Alice. Webre himself made the final decision on the selection, Mills said. Though both dancers were chosen partially for their ability to capture a childlike sense of wonder and naiveté, they add their own individual qualities to the character.
Kenny Johnson / provided
Charles Martin played the White Rabbit in the Kansas City Ballet's production of Alice (in Wonderland).
"The choreography they're learning, it's going to be specific movements on specific counts, and that doesn't vary much," Mills said. "Within that context, it's very much about how it's portrayed. Oftentimes, whether it's dance or whether it's acting, performers, artists, they're bringing their own nuances to the work. They're bringing their own ideas into the work. That's why you hear the word 'interpretation' a lot, 'It's this actor's representation of the role of Hamlet.' In this case, Septime is really great in that he allows people freedom outside of the context of the musicality of the steps; he allows them freedom to not only bring themselves into the role but to interpret every scene. … There are a lot of different ways that an artist can approach the same movements on the same count, but in the acting and the facial expressions, the musicality, the physicality can all have many different sorts of interpretations."
These factors and more make Alice "a complex and interesting production," Mills said, and though audiences might have never seen anything like it, they should have no problem relating to it.
"People are familiar with it, so I think, coming into the theater, if people are able to remove their expectations from that Disney cartoon, everyone's going to love this," Mills said, "and they're going to understand it incredibly easily."
Visit okcballet.org.