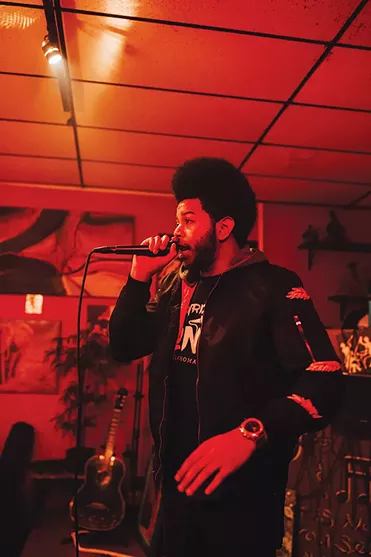 Alexa Ace
Original Flow is a judge at Art of Rap and a founder of Heart of Hip-Hop.
Collin The Chill One came to compete at the Art of Rap after finding it through an internet search.
"I just went on Google and typed in something along the lines of 'hip-hop events OKC' and I saw this show and it popped up as one of the first things on Google, and I was like, 'Oh, hell yeah. Tomorrow night,'" said The Chill One before the show began Dec. 10. "'Time to get my feet wet, you know?' … It's always good to just rip off the Band-Aid. … Even if it's intimidating, you gotta go at it."
In addition to wet feet, the monthly hip-hop competition, held at Hubbly Bubbly Hookah & Café, 2900 N. Classen Blvd., offers MC contestants the chance to win $50 and a spot on Heart of Hip-Hop, the cafe's monthly showcase, but the opportunities it creates for artists by putting them all in the same room together might be better than prize money. Mars Deli, a member of hip-hop collective Sativa Prophets, credits Art of Rap for introducing him to the local scene.
"I had no clue about anything or anybody," Deli said. "I did one show here. I lost. I didn't even get into the second round, but it was just nothing but artists and producers. Winning or losing, I could get booked for a show still. I could find artists I could work with and make my shit better. Win, lose or draw, you're going to see people here that are doing shit — actively doing shit. I always tell people whenever it's their first time doing it, 'Don't get discouraged whether you win or not. Just start making connections. That's what matters.' If I would've just walked out, if I just left, I wouldn't be in Sativa Prophets. I wouldn't have met any of the guys that I met. I wouldn't have done any of the shit that I did. … The networking here is more important than the $50 that you win."
Fellow Prophet Mike Huckeby, aka Huckwheat, who has transitioned from a contestant to one of the judges, said the "sense of community" is the "most important part" of the competition, but he also offered a few words of advice to newcomers.
"Practice," he said. "Come to one and check it out. Just be prepared. … Don't rap over your own vocals. … We want to hear you in a live setting. This is the underground. We're in a basement. That's the vibe, always. It can get real raunchy and raw. As soon as somebody says some slick shit up there, you'll see people just lose it."
Alexa Ace
Jim Conway organizes and hosts the Art of Rap, Heart of Hip-Hop and King of Kings events.
Scenario
Art of Rap began as a way to open the stage up to newer talent at the popular Heart of Hip-Hop show, launched in 2014 by Jacobi Ryan (formerly known as Fresh) and Original Flow, MCs who began performing at Hubbly Bubbly's poetry mics in 2013. Chief Peace and Joey Sativa rounded out the original Heart of Hip-Hop lineup. Jim Conway, who now hosts the Art of Rap, said he heard about Heart of Hip-Hop from his friend DJ Triple8 who originally manned the turntables at the show.
"He told me, 'The best rappers in the city that nobody even knows are right here,'" Conway recalled.
Triple8 got Conway a spot on the show, and he was surprised and impressed to find a welcoming, warm environment, something he'd learned not to expect in OKC.
"I retired when I came to Oklahoma because there was no inclusion," Conway said. "I was actually doing Christian rap back then, and it was like, 'If you're good, you're a threat.'"
Heart of Hip-Hop, meanwhile, lived up to its name.
"They created a demand and a spot and a niche where there was none," Conway said. "That's what Hubbly Bubbly is. It's a hub where artists come together. … In Oklahoma City, you're not supposed to take a bunch of great artists and come together. We're supposed to fight each other. … But we're going to come together."
In an effort to include more artists in Heart of Hip-Hop while still exercising quality control, Hubbly Bubbly added another night of hip-hop to its lineup: Art of Rap, a competition open to anyone, hosted by Conway and judged, reluctantly in some cases, by the Heart of Hip-Hop regulars. Christopher G. Acoff, aka Original Flow, said he's still unsure that creativity can be scored fairly.
"I feel like art in itself is subjective, so then to tell another artist how he or she should perform is difficult," he said. "I don't have all the answers for you. I can't tell you what to do better. I can just tell you that you did all you could do at that point in time, and that you're growing as a person. … We're all in the same boat. I have no place to tell anybody else what they should be doing. I'm trying to figure it out myself."
Having artists judge artists, however, at least ensures the judges' decisions are based on firsthand knowledge of the subject, and having basically the same panel of judges (give or take an occasional guest) every month sets a consistent standard.
"They know we're going to be around," Acoff said. "They know what they're going to get. It's going to be an authentic vibe with no politics or fake shit."
Alexa Ace
Mike Huckaby, aka Huckwheat, is a key player in the Sativa Prophets. He met fellow member Mars Deli at an Art of Rap competition.
Award tour
Ten contestants are judged in three rounds of competition. In the first round, contestants perform a verse from an original song and the judges consider audience reaction in their scores.
"The whole competition is about the three skills you should possess as an MC," Mars Deli explained. "You should be able to rock a crowd. When you get on the mic, your music should make people want to get up and dance."
On other nights, Hubbly Bubbly's crowds included Shaquille O'Neal, Russell Westbrook and Kevin Durant. This night, Collin The Chill One was up first, and he immediately got a response from the crowd: He brought his song on his cellphone, a frowned upon faux pas in the Art of Rap (thumb drives, which are easier to navigate and don't run the risk of ringing mid-song, are preferred). A several-minute delay ensued, drawing audible groans from the audience. Though The Chill One eventually performed, he received the lowest score of the night from the judges and did not advance to the second round.
"If you're opening up for a festival and you give them your phone, they're gonna tell you to go find some other place to shove that phone," Acoff said afterward. "I think it's imperative for us if we want to see creatives develop to their full potential we need to let them know what's going on with their performance as much as we can. We want to chop off the fat basically."
The criticism, Conway said, is always meant to be constructive and is almost always accompanied by encouragement.
"It's all in love," he said. "I lit Collin's ass on fire in the first round, but he earned it. But what you don't see is that we talked between the rounds and I said, 'Man, keep doing what you're doing.'"
Huckeby said this honest feedback made competing in Art of Rap more intimidating to him than performing at a concert.
"I don't get nervous at shows, but whenever I used to compete here, I would get nervous every time because it's not you they're here to see," Huckeby said. "Your name's not on the bill. … You have to impress people."
Art of Rap regulars and past winners including Queen Caution, Wesley Warhol and Druce Wayne fared better in round one, advancing to the second round, which requires contestants to rap over a beat chosen by the DJ.
"The DJ's not on your side," Huckeby said. "He wants to hear cool shit, too, but he's not like, 'Ooh I want him to win.' He's just spinning. … He's going to throw whatever record he wants to hear you on."
Though this round requires quick thinking and can reward improvisation and freestyling, contestants are not expected to battle each other like in the Eminem film 8 Mile.
"It's not always pretty," Conway said. "[But] the spirit of Art of Rap is not a battle."
Nymasis, who now serves as the DJ for Art of Rap after winning the competition five months in a row, was initially confused about this point.
"I was coming at people, battling people because I thought that was what was going on," Nymasis said. "Nobody told me any differently. Nobody was like 'Hey bro, we don't really get down like that.' … So I came on here like I always come on, a little loud and a little abrasive and out of pocket a little bit, but I meant well, and I didn't know that's what the joint was."
He has since come to appreciate the environment fostered at Art of Rap.
"These are dudes that I respect outside of this building, outside of this event, outside of hip-hop," Nymasis said. "When you can look at somebody and respect them, it's really easy to be humble and keep this vibe around it and not tolerate any of that negative, 'look at me' shit that a lot of people are on."
Alexa Ace
Nymasis is the DJ for Art of Rap, a monthly hip-hop competition held at Hubbly Bubbly Hookah & Café.
Vibes and stuff
Ryan said he wants to encourage this atmosphere of mutual respect.
"One thing I've enjoyed myself is the lack of ego involved," Ryan said. "There's not been much dick-swinging or sword-fighting."
After round two, only Warhol and Wayne remain. Warhol, who said he grew up competing in rap battles and won Art of Rap three months in a row last year, said the competition and the judges' honest feedback encourages performers to improve.
"If somebody's bad, they'll tell them as opposed to just catering to people's feelings," Warhol said, "but they're not out to break hearts. Ninety percent of the time, they're going to give you what you actually deserve. There have been times when I'm like, 'Man. I need to step my game up.'"
Round three, which Mars Deli called "the great eliminator," requires contestants to rap a cappella with no beat.
"There's been some really impressive wins," he said. "A lot of times in the third round, it's super-passionate. It's really heartfelt. … A lot of people can rap. Not a lot of people can rap and say something without a beat. That really is what separates the men from the boys in this competition. I've seen people do some amazing shit with no beat, and I've seen people who I thought would kill just get up there and flat-line."
Wayne and Warhol both did well with the judges, but Wayne, who originally came to hip-hop through spoken-word poetry and called round three his "bread and butter," ultimately won.
"I put pressure on myself to succeed," Wayne said. "It gives you that relief of success to prove your abilities. It's a good training spot. It's a good thing for the hip-hop community."
Wayne, Warhol, Queen Caution, Nymasis and all the other Art of Rap winners for 2018 will compete for top honors at the second-annual King of Kings tournament Feb. 11 at Hubbly Bubbly.
Ryan said he wants Art of Rap and Heart of Hip-Hop to continue creating opportunities for aspiring stars in OKC.
"Before this, there wasn't anything for artists on this level," Ryan said. "We all had our journeys to get to this point. We had to learn all this stuff on our own. No one told us how to be professional performing, to not bring your phone, to be prepared in a certain manner. … It's good that we have something in place to help other people who are kind of fumbling in the dark like us."
Conway, who also uses hip-hop shows to raise funds for schools and children in south Oklahoma City with his Lifelines nonprofit organization, said his ultimate goal is to transform the local culture.
"If you get enough have-nots together, no one can stop you," Conway said. "In 10 years, we are not going to be an exclusionary scene. In 10 years, everybody's going to remember, 'That fat-ass named Jim Conway helped me when nobody else would. Jacobi helped me. Original Flow helped me. They helped me, so I'm going to help the next person.' … That's the only way for us to get better."
The next Art of Rap is scheduled for Jan. 14, followed by Heart of Hip-Hop on Jan. 24. Visit hubblybubblyokc.com.