Alexa Ace
The Treasury coworking space for women features offices, meeting rooms and communal areas.
Hannah Schmitt is editor of the local parenting magazine Metro Family. As her own boss, she chose to work from home for the past four years. She called this set up "kind of fine" until she and her husband Brian Schmitt had their son two years ago.
Suddenly, lines between work, family and the home became muddled. Assignments crowded the family's dining table. Going out to coffee shops for a change of pace was too difficult with a toddler. She knew something had to change.
"We started tossing around the idea of me having an office to do the magazine work," she said, "but private offices are really expensive, and it still wasn't solving the problem of feeling isolated and lonely working from home."
While she loved the flexibility of her job, she missed having social interaction while working.
"You don't ever have anybody to throw ideas at," she said. "You never have anybody to get feedback if you're having an issue with your boss or an issue with a client or anything like that."
At the time, Hannah Schmitt was helping host the Oklahoma City chapter of the Creative Mornings lecture series. Through the series, she met fellow female professionals who expressed similar frustrations with their work lives.
She was also involved in the online platform Stories and Work. Although the platform began with a general focus on entrepreneurs in 2015, in 2017, she shifted to interviewing female entrepreneurs exclusively. The site was created as a way to share stories and foster an online community. Hannah Schmitt said she often heard the same things from her interview subjects.
"And then over time, it just got to be more and more evident that women in Oklahoma City needed a place," she said. "That I was not the only one who would be able to use something like this. And Brian totally agreed with that."
She said when they decided to move forward with the creation of their coworking space, The Treasury, 10 N. Lee Ave., their arrangement was perfect because she serves as the "heart" of the business while he's the "brain." Brian Schmitt currently works for Devon Energy as an engineer.
"So it was just like all the stars aligned," she said. "I needed it, I kept hearing [from] other women who needed it, and so here we are."
Hannah Schmitt said having the space has helped her set necessary boundaries between work and home.
"It has been incredibly helpful over this past month for me to come here, open my laptop, get things done and then really close it and go be present in the other areas of my life," she said. "I think all women struggle with that."
Although she acknowledged that boundaries look different for each person, The Treasury does not offer evening hours to discourage working constantly.
Coworking is an idea that has become more popular in recent years, and several local coworking spaces have already sprung up in Oklahoma City. But Hannah Schmitt decided she wanted theirs to be female-only.
"Having a baby two years ago, I think I realized that the challenges that women face in the workplace are even more different than I ever thought before," she said. "Women just have a lot on their plate."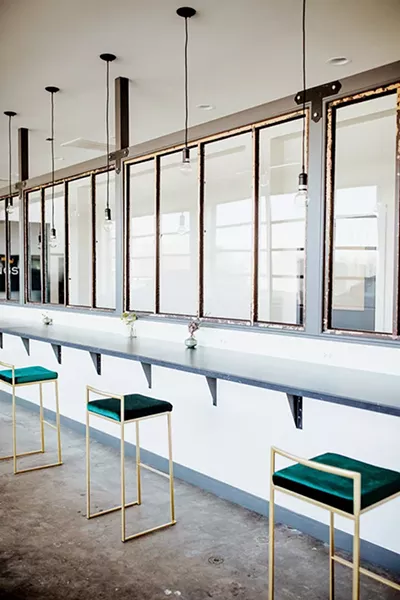 Alexa Ace
The architecture in The Treasury incorporates elements of the original MGM building in Film Row.
Creating community
She said she wants the space to be one where "women can learn from other women specifically," which echoes her efforts with Stories and Work and Creative Mornings.
Creating a professional community and opportunities for connection are additional goals of their new endeavor, so hosting events for women is another focus of The Treasury.
"The events that The Treasury hosts are important to us," Hannah Schmitt said, "because one thing we wanted to be really intentional about was not just offering the space and saying, 'Come in here and work,' but [offering] more of a community."
She pointed out that in the corporate world, networking and continued education are often built into jobs.
"When you are self-employed or you're employed in something more flexible, that's on you to do, usually," she said. "And so we're trying to build that for people."
The Treasury has hosted a lunch-and-learn series called Premium in Practice, panel discussions about navigating multiple roles and jobs and group yoga. Potential additions include a running club and a book club. They also recently held a Working Mom Summit.
Members of The Treasury can attend events for free. Members of the public are welcome also but must purchase a ticket.
"Overall, I think we want our lives to be led by investing in other people and realizing life's not just only about us," Brian Schmitt said. "And also providing an opportunity for other people who are like-minded and want that same thing. To pour into others and also to be poured into."
The Schmitts also hope to eventually provide scholarships to female entrepreneurs who might not be able to afford the membership fee. They said growing their community will also be a major goal in the new year.
The coworking space was opened at the beginning of November and is in the newly renovated MGM building on Film Row. The Schmitts and developer Eric Fleske took great care to preserve the building's original architectural details.
The main workspace is wide and open, with plenty of seating. A half-wall along the interior has incorporated the building's old windows as a unique feature. The workspace connects to an area they call the "living room," which is a slightly more relaxed space that can be used for taking meetings or phone calls.
The Treasury's formal conference room features exposed brick walls and beautifully restored crown molding, which is original to the building.
It shares the back part of the building with Sage Realty Partners, whose offices are partially housed in the former film vaults. The original doors to the vaults still remain.
The space already has several coworking members, including professionals in areas of design, writing and realty. Members are provided parking, a mailing address and office amenities.
As mentioned, The Treasury also functions as an event space after hours and the main area and amenities are available for rent.
Visit thetreasury.work.