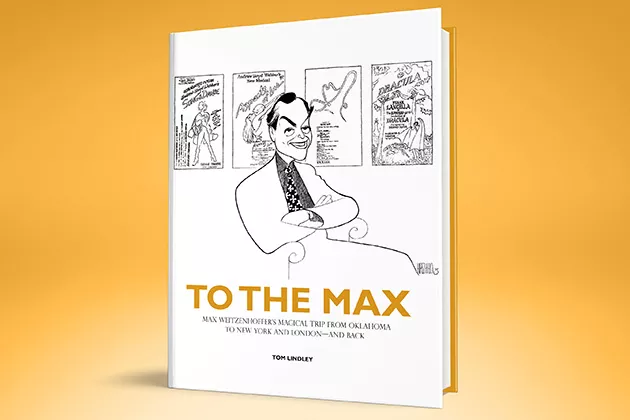 Full Circle Press / provided
To the Max: Max Weitzenhoffer's Magical Trip from Oklahoma to New York and London—and Back by Tom Lindley was published in August.
When Michael Jackson died in 2009, Norman native Max Weitzenhoffer just so happened to be chairman of Nimax Theatres, which was presenting Thriller Live at its Apollo Theatre in central London. Ticket sales exploded, leading to an eight-year run. When The Phantom of the Opera was being adapted for Broadway by Andrew Lloyd Webber in 1986, Weitzenhoffer's initial attempt to make an investment in the show was turned down. Then the stock market tanked in 1987 and Weitzenhoffer received a plea from the production company for half a million dollars to replace a major investor who dropped out.
"How fast do you need it?" Weitzenhoffer recalled asking in the new book on his life, To the Max by Tom Lindley.
"By tomorrow," was the response.
It was another fortunate turn of events that defined Weitzenhoffer's career track from Oklahoma through Broadway and London and then back to his home state to transform the University of Oklahoma's theater department. This journey is traced in To the Max as his highlights are accompanied by a leisurely jog through his personal life. Though at times bogged down by the minutiae of his family life and trips abroad, To the Max does offer a fascinating glimpse into the producer's view of Broadway, where art meets finance and the balancing of egos is often the difference between success and crushing failure.
Among the book's highlights is its delve into a seductive Broadway adaptation of Dracula, with inspiration from the illustrations of Edward Gorey. Memories of The Will Rogers Follies and other notable triumphs and misfires are where the biography flows at its best. Weitzenhoffer's unique insight into the theater business adds dimension to familiar stories, productions and celebrated actors.
Weitzenhoffer is also open about his misses, such as his admittedly historic flop with Harold and Maude, which ended its run $300,000 over budget, forcing Weitzenhoffer to sell off property to pay off debts.
Life perspective
To the Max
is Lindley's third biography for Full Circle Press, the imprint of the longstanding independent bookstore of the same name. Lindley retired from a long career as a journalist. In an email exchange with
Oklahoma Gazette
, he said his move to longform nonfiction comes from his love of the interview.
"Every individual and every story I've ever tried to tell is unique," Lindley wrote. "I love the interview process and having the opportunity to be the sponge that soaks up some knowledge. Doing justice to the stories is sometimes hard. Some sentences I write find their mark; others appear as if they had little thought behind them. When any manuscript I've written finally makes it to print, I'm almost afraid to open it because I know there are going to be a thousand things I would like to change. This time, I'm hoping to cut that in half, not because I'm a better writer but because Max is visual by nature, which made the book more colorful and, I hope, insightful. Plus, it was beautifully illustrated by designer Carl Brune."
The production quality of To the Max is, indeed, vibrant, visual and fitting for Weitzenhoffer's love of spectacle. One might assume that the book would stay focused on Weitzenhoffer's rise through Broadway and dish on behind-the-scenes drama, but the story often spills over in many other directions, a result of the volume of interviews Lindley conducted to prepare for the book.
Oklahoma Historical Society / provided
Norman native Max Weitzenhoffer made it big as a theater producer on Broadway and owned a successful theater in London's West End.
"I don't begin to know what the right formula is, so what I do is interview and research the topic to the point of exhaustion," Lindley wrote. "If I spent 60 hours with Gene (Rainbolt, Out of the Dust), I must have spent 100 hours with Max. Each conversation will lead you down a new road. I had enough material to write 600 pages, but I'm not sure there was an appetite for that on anyone else's part. What I did not want to do was produce a manuscript burdened down by all of Max's accomplishments. For one thing, he's not comfortable being on a pedestal. And for my part, I don't like writing vanity books. So, I tried to keep it real, although it's certainly written from Max's perspective on life."
Lindley was surprised by how deeply Weitzenhoffer's ties to Norman remained after he'd left to find success in New York and London.
"He has spent much of his career on the world's big stage, yet he never strays too far from Oklahoma and Norman," Lindley wrote. "Some of the reasons for that provide insight into what is important to him down deep."
Weitzenhoffer's $5 million contribution to create the musical theater program at OU certainly serves as a launching pad for emerging talent nationwide.
"It's my biggest accomplishment," Weitzenhoffer says in the book. As Lindley wrote, it's not just about producing graduates, but mentorship and advocacy that "put hundreds of its graduates to work in the theatre since its inception."
Also mentioned is advice Weitzenhoffer recalled giving three female graduates with their sights set on New York City. First and foremost, he said it was important to avoid marriage and motherhood until they had established solid enough careers that would allow for the necessary sacrifices of family life. Another was never to be late for an audition and always dress appropriate to what the production was looking for. The dating advice was last. Framed as sage guidance from a veteran of Broadway, it is perhaps the most interesting moment of the book for its revealing and unsettling candor.
"As far as dating when you get to New York, you make every effort to go to every social function you can think of that is involved in the theatre, whether it's an opening night party or whatever, and you don't get involved with anybody unless they can help you," Weitzenhoffer said. "It's called networking. It will get you a job because the fact of the matter is when you get there, you're going to be faced with many people that are just as talented as you are, and they may be more clever at getting a job than you are but that's the name of the game."
To the Max is available anywhere books are sold.