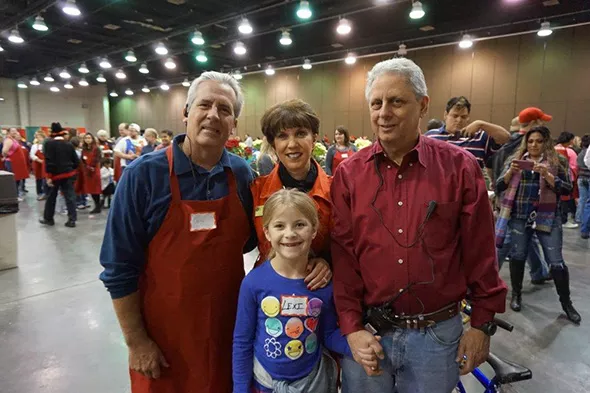 Red Andrews Christmas Dinner Foundation / provided
Mary Blankenship Pointer top center said Red Andrews Christmas Dinner will serve 6,000-7,000 people this year.
The warmth provided by Red Andrews Christmas Dinner, a Dec. 25 tradition in Oklahoma City dating back to the 1940s, isn't just a one-day affair.
Red Andrews Christmas Dinner Foundation has provided thousands of winter coats to Oklahomans in need over the past few years. However, an organization that has provided the foundation with coats in previous years has run short. The foundation's secretary/treasurer Mary Blankenship Pointer said she hopes the community can make up the difference in donations this year.
Many of the dinner's attendees are people who work outdoors.
"Most of the people who attend the dinner are working very, very hard and trying very, very hard, and they just don't have the money," said Pointer.
Many attendees forgo their own winter coats to make sure their children have them instead.
New and gently used coats can be taken to any Red Andrews toy drop-off location or to Cox Convention Center, 1 Myriad Gardens, on Christmas Eve. Pointer said those who wish to help may even bring coats and donations on Christmas Day, and volunteers will work on distributing the items. The full list of locations to drop off coats and other donations is online at redandrewsdinner.org.
Making Christmas bright for children is also a major focus of the foundation. All children attending the dinner receive a free gift and a photo with Santa Claus. Pointer met a boy last year who confided that he had been good all year, but he hadn't found a Christmas present under the tree that morning.
"We told him, 'Look! There's Santa right there, and he has your toy,'" Pointer said.
The foundation serves a warm turkey meal with side items and a dessert to 6,000-7,000 attendees each year.
"Last year, we had such a turnout. … We ran out of everything except green beans," she said. "We've worked really hard to get people who need to be there."
The meal is served 8:30 a.m.-2:30 p.m. in the event hall in the southwest corner of Cox Convention Center. Pointer said take-home boxes can be prepared for homebound loved ones.
"A lot of people have two or three generations of family members in the same house," Pointer said.
The foundation wants to help even members of the family who can't get around as easily.
Pointer said the dinner also serves as a way for many not to be alone on Christmas. Some attendees are military members who can't go home for the holiday.
In the 1940s, noted boxing promoter Red Andrews discovered conditions some parking lot workers were facing living in mud shacks behind Stockyards Coliseum. Andrews had previously hosted a Christmas dinner in Tulsa and decided to restart the event in OKC. From those beginnings, Andrews continued the dinner annually until his death in 1977, when his family took the reins. In 2012, declining health of family members temporarily put the dinner in jeopardy, but local volunteers rallied to put on the event and form Red Andrews Dinner Foundation in 2012.
The current board includes president Robert Goldman; vice president Ken Cassil, whose grandmother was Andrews' sister; and Pointer. Pointer said the volunteers at the dinner come from a wide swath of Oklahomans.
"We have had governors, senators; we've had judges — we'd had everyone from every walk of life," Pointer said. "It has made me more thankful for everything in life. I look at life completely different."
Bud Elder, former director of Oklahoma Film Commission, volunteered at last year's dinner, taking pictures of attendees with Santa and Mrs. Claus.
"What lingers with me from that experience is the sense of fellowship — everyone on the same page of love and respect," Elder said in an email. "I'm old enough that I knew Mr. Andrews, and I'm sure he looks down with joy every year from the special place in heaven in which he most certainly resides."
Red Andrews Christmas Dinner Foundation is a nonprofit organization with an endowment that should allow volunteers to keep the dinner going far into the future.
"I won't be here in 70 years doing this," Pointer said. "It's up to the next generation to build on that foundation."
And she has no doubt that Oklahomans are up to the challenge.
"I believe that Oklahomans always work together to help each other," she said. "They always look for the best in every situation, and they always step up."
Visit redandrewsdinner.org
Donation Box
New, unwrapped toy or coat donations are being accepted at the following locations:
Cort Furniture
4300 NW 39th St.
9 a.m.-6 p.m. Monday-Friday
10 a.m.-5 p.m. Saturday
Jackie Cooper BMW
14145 Broadway Extension
7 a.m.-8 p.m. Monday-Friday
8 a.m.-7 p.m. Saturday
The Goldman Law Office
222 NW 13th St.
8 a.m.-5 p.m. Monday-Friday
Republic Bank & Trust
3550 W. Robinson Ave., Norman
1200 E. Lindsey St., Norman
401 W. Main St., Norman
805 N. Main St., Noble
11671 S. Western Ave.
3500 W. Robinson Ave., Norman
Lido Asian Cuisine
2518 N. Military Ave., Suite 101
Monetary donations
Republic Bank & Trust — Mary Blankenship Pointer
C/O Red Andrews Christmas Dinner Foundation
11671 S. Western Ave.
Oklahoma City, OK 73170
All checks should be written to Red Andrews Christmas Dinner Foundation.