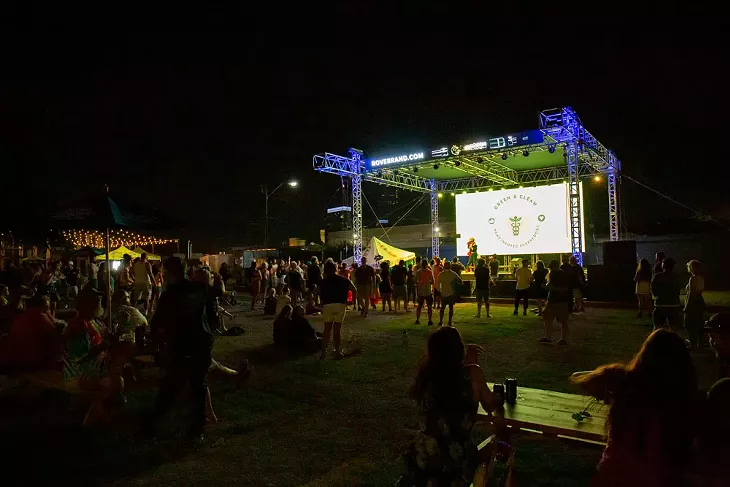 While the official grand opening was June 12, the park has already hosted numerous cannabis events, from the Green Grow Fest launch party and CannaCon afterparties before they were officially open to, most recently, the Toke 'N Drag show.
Relax Park is nestled in a quiet area just southwest of downtown. Passing a number of small and industrial businesses, the sound and lights from the venue hit you as you approach the intersection of SW 5th and Western Avenue.
The park concept is simple: a mostly outdoor venue that offers food trucks, alcoholic beverages, an on-site dispensary and a full concert stage. The result is an inclusive, inviting atmosphere where multiple relaxation wants can be sated in a single 3.6-acre environment.
Owner Jason Thomas said that what visitors to Relax Park see today is just the first stages of a much grander vision for the future.
"This is a dream of mine," Thomas said.
The zoning of the surrounding area as commercial and industrial zones allows the party to rage without disrupting anyone as soon as the workday ends.
"Everybody shuts their lights down at five, so we can turn music up all down this corridor, and so I've looked at this as the first mover of like that Austin-like hip vibe music experience, because if we don't just have mine, we have the one down the street, this Beer City Music Hall, Anthem Brewery behind me is getting ready to put out this whole badass, nice patio off their taproom where it has deck space, and you hang out. We literally talked two weeks ago about bringing in music and doing all these different things. And so if we could keep that kind of keep it weird slash keep it hip, like, welcome to the west side and here's our music gig and then you come down here, and there's five, six different bands playing all throughout this little corridor. Dude, you can't do that anywhere in Oklahoma. You can't," Thomas said.
To that end, Relax Park has already hosted Jim Belushi and his band for a CannaCon afterparty and Cross, Rags and Young headlined the grand opening party.
An enormous amount of thought and effort went into crafting the Relax Park experience, Thomas said, but they are still fine-tuning the operation to make things as smooth as possible, the peril of pioneering a new concept that has to be in strict compliance with multiple agencies' requirements at the same time.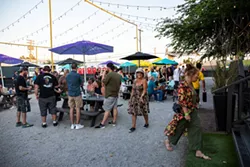 "We already know what we know but we have to pressure test it in terms of every little thing. You have the basics of the element done, but when you bring in forensic scientists, there might be something that you don't know about. You're gonna have to make changes, but in terms of broadstroke, it is very thought out and very strategic," he said.
The Garden of Weeden, Relax Park's onsite dispensary, features a broad range of products, from fresh flower supplied by their in-house grower, True Heights Cultivation, and other curated Oklahoma farms as well as a range of concentrates, edibles and a wide selection of pre-rolls.
Outside, The Hub Bar offers up local brews, national beer brands and mixed drinks with prices that match other local spots.
The food trucks lining the back edge of the property are constantly revolving, with new options available each visit to the park.
Some events have been ticketed and others have been free, but Thomas is still weighing his options as to how to handle daily traffic to the park while also sustaining a multimillion-dollar operation.
"I know the key to failure, and that's trying to make everyone happy. We're not in the business of trying to make everyone happy. I just think that's a failing effort. However, we're in the business of experience and making something exist that didn't before, literally, in the United States. There's nothing like this component where we can freely express ourselves and do things from high-level talent to like what we did here, boots on the ground, with a local cause that gives a ton of a shit about how they're accepted within the gay community, and so on and so forth. That platform, that movement of opportunity for everyone's well being has to be protected and well preserved and so that is part of what my mission is, and we're not going to get it right every time. I don't want to mess with a company that can't take their own criticism, because they're never going to get good. In fact, they're going to fail because they don't listen to anybody," Thomas said.
For more information about Relax Park, visit relaxparkokc.com.