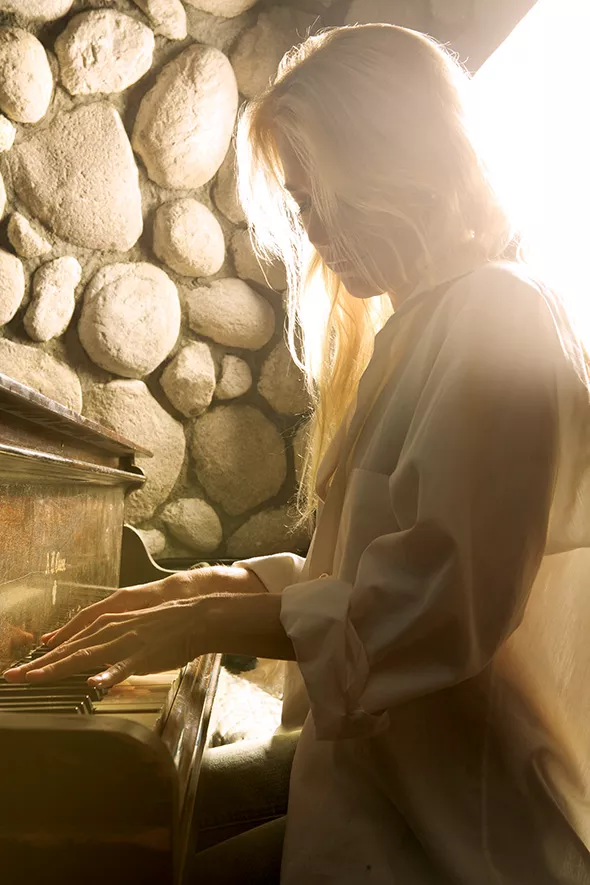 provided
Amilia K Spicer, who played Okemah's Woody Guthrie Festival in July, returns to Oklahoma Jan. 24 for an evening at The Blue Door.
Asked how much time she spent on her last album, Amilia K Spicer wanted to avoid an exact number.
"Oh, god! I don't want to say," Spicer said, laughing. "It was a long damn time. It was over many years. 'A long damn time,' is my favorite answer so I don't have to be specific. … The record sat helpless and stranded for several segments of time, maybe the longest of which was two years. It just sat."
Spicer, who played Okemah's Woody Guthrie Festival in July, returns to Oklahoma Jan. 24 for an evening at The Blue Door, 2805 N. McKinley Ave. Released in 2017, Spicer's Wow and Flutter is the follow-up to her previous full-length, Seamless, released in 2002. The singer/songwriter, a Pennsylvania native who now divides her time between Austin and Los Angeles, originally moved to LA to work in the movie industry but became annoyed by how long the creative process seemed to take.
"I got a little frustrated, perhaps impatient, when I was on film sets," Spicer said. "I loved being there, but as I was doing it, I started craving a more immediate way to make art that didn't require so many months and so many different committees. … I think some of the turning towards music was completely mystical in the way that the universe gives you a path, but some of it was, definitely, it was exciting for me to think about being able to wake up, write a song and then play a song, and it could happen just like that. It didn't require anyone else, so that was pretty exhilarating."
Recording her debut, Like an Engine, released in 2000, Spicer wanted to do as much as she could on her own, but her attitude has changed over the years.
"When I started doing music and got a couple of record-deal offers," Spicer said, "I don't know if it's just me or if this is typical, but you're very protective. I was very protective about sharing publishing or things like that, very, 'Oh no; I want this all for myself,' but I've changed my thoughts about that, and the business is quite different now. I'm all about collaboration to begin with."
Wow, which roots music magazine No Depression called "both beautiful and fresh," features contributions from bassist and Bob Dylan and Rolling Stones collaborator Daryl Johnson, keyboardist and Taj Mahal and Bonnie Raitt collaborator Mike Finnigan, pedal-steel player and Son Volt collaborator Eric Heywood, guitarist Gurf Morlix and more. Spicer produced the album along with co-producer and engineer Steve McCormick.
"I really missed being in a room with people and talking about ideas and feeding off of each other's creativeness," Spicer said. "I had that in the studio when I was making this record, but since then, I've been sort of wandering around the hallways of my head, and I guess that's not unusual for a songwriter, but I feel like I'm really missing a community."
Even with so many collaborators, the album's lengthy recording process could be an isolating experience.
"Putting out Wow and Flutter was challenging," Spicer said. "Finishing it took a long time. It kind of kept kicking my ass, and I'm really very proud of it, but I do think in order to get that done and get it out the door, because it was challenging me at every step, I had to really turn inward and cut down my social life. I was going out all the time to see my friends play, going out to clubs and stuff. That got reduced drastically. And then you're out trying to get the word out, so it's very isolating, or it has been, and it can really make you feel like a narcissist. I need to surround myself with people's brilliance so I can be inspired by it."
Artistic discovery
In promoting the album, Spicer rediscovered her love for directing, filming videos for singles "Harlan," "Fill Me Up" and "Lightning." The video for "Lightning" largely consists of clips Spicer shot in hotel swimming pools while on tour. Modern technology has provided her more opportunities for creative multitasking.
provided
Released in 2017, Spicer's Wow and Flutter is the follow-up to her previous full-length, Seamless, released in 2002.
"These days, you have so many prospects as an artist that you have to humor yourself," Spicer said. "[Filmmaking] snuck back into my life, and I'm really happy about that. … One of the benefits of this sort of way-too-connected world that we're in now, the oversaturated world that we're in now, is that, really, it's not just required, but it can be exciting that you're allowed to do different things and be different things. It makes it a lot harder in some ways, but the way I'm choosing to look at it these days is I have a lot of different art within me. I always have, and now I get to do it all. The question is, How many hours are there in the day? How much focus can you have? For me, trying to lasso one of them to the ground for a period of time so I can focus on just that is the trick."
Originally a keyboardist, Spicer found new inspiration for Wow by learning to play several other instruments, starting with guitar and branching out into banjo, pedal steel, melodica and banjo. The new sounds inspired her to write new songs, requiring her to reconsider the album's track list several times and prolonging the recording process.
"I kept writing songs, we would record them and then I would want them on the record, so the song list kept growing and changing, and that is also a lesson as to how not to make a record quickly," Spicer said. "Songs kept getting bumped by new ones. I always like shiny things, so I was, like, 'Oh, a new song. Goodbye old song. Bye-bye.'"
While Spicer thinks she's running out of new instruments she might add to her repertoire to find inspiration for her next album, which she said might be "more pop-oriented," she's still searching for new ways to approach her art.
"I'm always trying to adjust my headspace because the more days we're on the planet, hopefully the more we're evolving or taking in new information and trying to figure out how to reside within that peacefully," Spicer said. "What that's going to look like for the new album, I'm not exactly sure, but I definitely am not a person to stay still, mentally or physically, so I am always interested in trying new things, maybe to a fault."
One thing she said might try next time out is spending less time in the studio.
"Sonically, I like to experiment, but I also am very particular," Spicer said. "I haven't yet recorded an album that's, you know, 'Set up some mics. Push record. Play it once, and that's a wrap.' That would be really scary for me, and that probably means I should do it."
Tickets are $20. Visit bluedoorokc.com.