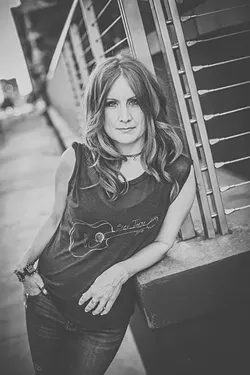 Photo Mandi Davis Photography / provided
Constance Squires
Before Constance Squires began the writing process for her award-winning debut Along the Watchtower, she was already making progress on the story that would eventually become her second novel.
In Live from Medicine Park, published earlier this month by University of Oklahoma Press, Squires tells the story of Ray Wheeler, a down-on-his luck documentary filmmaker who hesitantly agrees to follow the musical comeback attempt of Lena Wells, an Oklahoma-raised '70s rock icon whose career has been on a long hiatus. As Wheeler becomes more involved in the story, his relationship with Wells — for whom he develops romantic feelings — and the people around her becomes more complex even as he strives to maintain journalistic distance.
The story is set in Medicine Park, a camping and resort area in southwest Oklahoma near Lawton. Squires, currently a creative writing professor at the University of Central Oklahoma, was raised in a military family and spent part of her life growing up in nearby Fort Sill. Medicine Park was a favorite camping and hiking spot for Squires before it became the setting for her book.
"It's such a funky little enclave in Oklahoma that not a lot of people have been to or know about," she said. "It's got very few people who actually live there full-time, so it seemed like the perfect setting for somebody who had retreated from the music business and was just trying to hole up."
Taking the book's title to its most literal extent, Squires will hold a reading from the new novel 5-6:30 p.m. Saturday at The Plantation Restaurant, 140 E. Lake Drive, in Medicine Park. She also is scheduled to do a live reading 6-7 p.m. Tuesday at the Norman Barnes & Noble, 540 Ed Noble Parkway. There is no cover charge for either event.
Though the Medicine Park area has now established a strong music reputation in hosting the annual Medicine Stone red dirt, country, folk and roots music festival that began five years ago, Squires' story idea predates the event by several years.
"Maybe all I was doing was picking up on the zeitgeist," she said. "Maybe a lot of people were feeling Medicine Park was just a natural place for music."
Taking shape
Squires, who won the 2012 Oklahoma Book Award for Fiction with Along the Watchtower, first began working on Live from Medicine Park around 10 years ago with the intent to tell a story about the private lives of people who had been out in the public eye.
But it took many drafts and a lot of rewriting before Squires arrived at the version of the novel that can be read today. The writer spent a lot of time cycling through different point-of-view character and plot lines.
"It took me awhile to get it into its true shape," she said. "Once I finally did, it all worked out, but it wasn't a fast process."
Originally, the story was written from the perspective of a character named Jettie, Wells' daughter-in-law. But slowly, Squires began to realize that Wheeler, being a documentarian, was the most natural point of view for watching the other characters' stories unfold.
"I didn't want to know that," she said, "because it meant a lot of rewriting. I sort of resisted that for a while, but then I was like, 'Alright; that's the right point of view.'"
Squires said the writing processes of Watchtower and Medicine Park were very different. But from her first novel-writing experience, Squires has learned to let go of the work once it is available to the masses.
"I almost feel like it's none of my business [what people think after a book is published]," she said. "I just do the work. I bake the pie. If people eat the pie and like the pie, that's awesome. If they don't, too bad. I'm just working on my next pie."
Image provided
Live from Medicine Park
Making a legend
Wells' character is not based on any one historical musician, but shades of Patti Smith, Lucinda Williams and Stevie Nicks will come to mind for some readers. An old music review in Medicine Park claims that no one had approached Wells' level of raging feminist longing since Janis Joplin died.
Squires set Medicine Park in the year 2000. The writer said the turn of the century was a time for looking back. Everyone was in a rush to sum up the last 100 years and put their personal stamp on what they felt was significant. This is a feeling not just held by those who chronicle music and other things, but those who produce that content as well. Squires said she can remember several musician comeback attempts around that year.
Part of the reason Wells stepped away from music was to raise her son Gram. But by the time the Medicine Park story begins, Gram is about 21 years old.
"She's got this feeling of, 'Well, I'm done with that. I can do this again now,'" Squires said.
Wells' musical style is blues-based '70s rock. It is not country music, but it is from the country. Squires said it is a sound that embodies Wells' own roots.
"One of the things this book is exploring is the way the rest of the country understands Oklahoma and the way you have to market Oklahoma so that it's digestible to people," she said. "So there's some emphasis on her rural background and her poverty-stricken childhood."
Part of writing Medicine Park meant writing actual lyrics to songs for Wells and other characters. Squires uses the music as a unique and interesting way for readers to form a better understanding of the characters.
Though she shows songwriting promise in the novel, Squires said she would never claim to be a true lyricist.
"I think if I had ever had one iota of musical talent I would have wasted my life on it," she said. "But, fortunately, I don't — except for when it came to writing these lyrics for this. It was really fun."
Closely related
Squires is a longtime fan of music who often lets that love guide her writing. In Medicine Park, music is more than an influence to the story. It is an impetus to it.
"I kind of wanted it to feel like the inside of a murder ballad — like the inside of something by [Bob] Dylan or a country ballad where there's this hermetically closed world where 'people ain't doin' right' and people have to figure things out," she said.
In many ways, Medicine Park represents the many ways in which music and literature are becoming increasingly codependent. Wheeler and Wells need each other to complete their respective stories. And those stories, in some respects, are one in the same.
"There's those of us who were creating the new work, and then there's a lot of really important work that goes into creating a narrative around the work," Squires said. "Each one of those characters were playing a part in telling that story."
Visit constancesquiresofficial.com.
---
Live from Medicine Park readings
Free
5-6:30 p.m. Saturday
The Plantation Restaurant
140 E. Lake Drive, Medicine Park
580-529-6262
6-7:30 p.m. Tuesday
Barnes & Noble
540 Ed Noble Parkway, Norman
405-579-8800
---
Print headline: Lyrical literary, Writer Constance Squires invents a '70s rock legend for her highly anticipated second novel Live from Medicine Park.