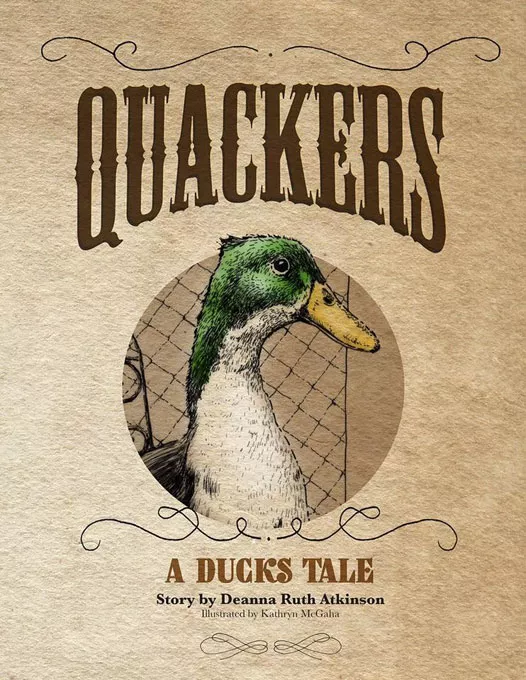 Pen-and-ink drawings in Quackers: A Duck's Tale were drawn by Kathryn McGaha. | Image provided
It's no surprise that writers often find inspiration for their work in the world around them. Local author Deanna Atkinson didn't have to look much farther than her own backyard, a 2.5-acre "urban farm" in Edmond, for the characters and setting of her debut children's book, Quackers: A Duck's Tale.
Atkinson, the president of Oklahoma Environmental Services, loves spending time with the real-life Quackers the duck as well as her chickens, dogs and goats.
"For me, it's a very relaxing environment," Atkinson said. "To just be able to go out and watch the animals' behavior, their interactions — that lent itself to writing the book."
By closely observing the real-life Quackers from his infancy, Atkinson supplied herself with a trove of creative inspiration, from specific details about feathers to conceptions of ducks' personalities.
"I raised them from babies," Atkinson said. "I saw the maturation process of going from the down to the feathers, of [Quackers] learning to swim, his first time in water, the first time that he used his wings to fly."
When she knew it was time to write, Atkinson put on some noise-canceling headphones and began, revising her story over a period of several months. She knew the story's beginning and end and worked through as she went along. Atkinson reread her manuscript so frequently that she began to second-guess her original vision. That's how she knew the story was done.
Quackers, the titular hero of Atkinson's book, is just a duckling when the Farmer Lady adopts him and takes him to her home. As he adjusts to life on the farm, Quackers makes and loses friends, learning to cope with change and life transitions. The cast of characters includes another duck, some chickens and even guineas.
Atkinson hopes that her younger readers will relate to Quackers, who faces anxiety, bullying and peer pressure, and feel empowered after reading the story.
"Whatever it is meant to be or whatever becomes of it, I just hope that some children somewhere find a nugget that can help," Atkinson said.
Coming together
After Atkinson had finished writing, she faced the next hurdle: what to do with her manuscript.
"I had a story, but I didn't have a book," Atkinson said.
She began to look at various possibilities in the self-publishing arena and also initiated the search for an illustrator. Eventually, Atkinson met Jime Wimmer, an assistant professor in UCO's College of Fine Art and Design and private design tutor.
"I had done this before, by myself," Wimmer said of her self-published children's book, Copernicus.
Having already used tools like InDesign, Wimmer was familiar with the self-publishing process, and a creative partnership was born. Rather than illustrating Atkinson's manuscript herself, Wimmer said she had a couple of her students in mind. One student — Kathryn McGaha, then a senior in high school — immediately got on board, Wimmer said.
Functioning as an intermediary between writer and illustrator, Wimmer said she helped McGaha find the right media and look to represent Atkinson's story.
"It was the right match. It happened all at the right time," Wimmer said of the creative collaboration.
Over the course of many months, McGaha and Wimmer worked through the illustration process: reading the manuscript, making notes, discussing the text and choosing which scenes to illustrate in order to avoid repetition and taking a trip to Atkinson's urban farm to meet the animals and take photos for reference.
"She's really visualizing it in a big way and setting up the compositions," Wimmer said of McGaha's work. "She pretty much nailed every decision she chose."
McGaha hand-inked all of the illustrations in Quackers: A Duck's Tale and was able to use the drawings in her AP studio portfolio.
After the writing and illustrations were complete, there was still the matter of bringing it all together cohesively, a project that Wimmer took on as art director. The book's pages are meant to look comfortably worn and well-loved, a choice that reflects its purpose: reading and rereading with others.
"We wanted it to have a vintage feel," Atkinson said, "something that parents or grandparents would read to children."
Self-publishing ended up allowing Atkinson more creative control over her book and the way it was marketed, as a Kickstarter campaign helped to fund the project.
Just under 45 pages, Quackers is something between a picture book and a chapter book — a storybook, Wimmer said.
"This is going to appeal right away to young kids, but more or less to an older audience who wants to read their children a small chapter. Atkinson hopes both adults and children will enjoy it.
"I hope that it's intellectual enough to entertain adults but has a storyline that interests and captivates children," Atkinson said, "that grandmother and granddaughter will always have that experience of reading the book together."
One thing Atkinson wanted to avoid in writing and illustration was the unnecessary glamorization of farm life or caring for animals. She chose not to personify her characters so much as to have them wear human clothing, and the book contains an informational postscript about the responsibility of animal ownership.
"I wish that more people were able to observe animals, because I think once you observe them in their natural environment, you have respect for them," Atkinson said.
For those who don't live on an urban farm, there's always the farms that live inside books and on pages.
Quackers: A Duck's Tale is $10. Visit atkinson.farm.
Print headline:
Farmhouse fables;
Writer Deanna Atkinson brought her backyard
to (fictional) life in her children's book
Quackers: A Duck's Tale.