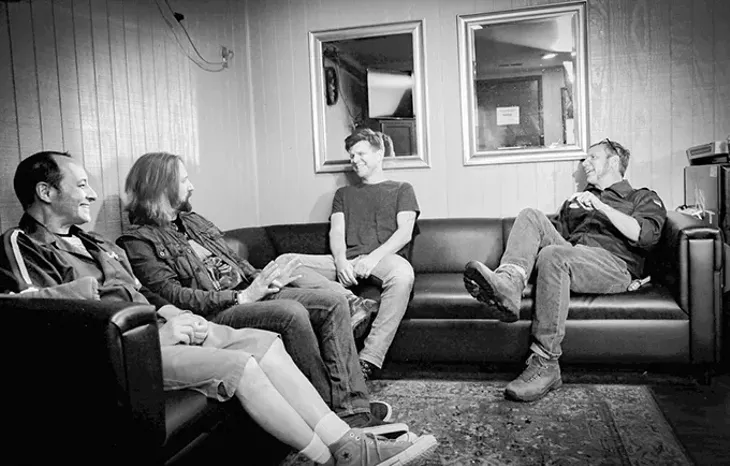 Monson Photography / provided
The Nixons' Zac Maloy (center right) founded Oklahoma Songwriter's Festival in 2016. He will be joined on stage by several band members during the fest's Songwriter Showcase 7 p.m. April 14.
The city's — and perhaps region's — biggest annual songwriting event is moving to one of its hottest venues.
The two-day Oklahoma Songwriter's Festival, now in its third year, is set to make its Tower Theatre debut April 13-14 after two years of showcase performances at ACM@UCO Performance Lab.
Several private events are scheduled for April 13, but a free Songwriting Camp, featuring the fest's esteemed panel of Nashville songwriters, is scheduled for early April 14 at the Uptown 23rd District venue, 425 NW 23rd St. Leading the panel is Zac Maloy, the native Oklahoman and frontman/guitarist for the recently reunited alternative rock band The Nixons, who has helped write songs like "Temporary Home" for Carrie Underwood and "Words Are Medicine" by Tim McGraw.
Other panelists include country music hit machine and Nashville Songwriters Hall of Fame inductee Bob DiPiero (The Oak Ridge Boys' "American Made," Vince Gill's "Worlds Apart," McGraw's "Southern Voice" and over a dozen No. 1 U.S. hits), Travis Hill (Kenny Chesney's "Anything But Mine") and Bowling for Soup vocalist and guitarist Jaret Reddick (who, in addition to his band's hits, also penned and sang the theme song for the Disney Channel animated series Phineas and Ferb).
The event culminates 7 p.m. that night with a writer's round music showcase, where the panelists take turns explaining the stories behind some of the songs they helped pen before performing them in an intimate acoustic setting. Admission to that portion of the festival is $18-$40.
Maloy, who founded the festival in partnership with sister Tava Maloy Sofsky, director of the Oklahoma Film + Music office, recently spoke with Oklahoma Gazette about the event he hopes could one day grow into a "Sundance for songwriters."
Photo Will Bolton / provided
Bowling for Soup's Jaret Reddick is part of the four-person songwriter panel at this year's Oklahoma Songwriter's Festival.
Oklahoma Gazette: This is the festival's third year but the first you've been involved with Tower Theatre. How did all of that get set up? Were you looking into going to Tower?
Maloy: We did a venue in Bricktown, which was great for year one and year two, but we just felt like we wanted to change it up this year. And it seemed like I got an email a day saying, 'You've got to do it at Tower!' The event is meant to be a sit-down, listening-room type of event where us songwriters from Nashville — and there's going to be a local round that will open the show with five Oklahoma writers — but we'll sing songs and tell the stories behind the songs. People just kept saying, 'You've got to check out Tower!' I talked to Chad [Whitehead] who runs it, and he just jumped at the chance. He was like, 'Dude, a songwriter showcase listening night is perfect for Tower Theatre.' I'm so excited.
OKG: Are there any songs you've got waiting that you're excited to explain in the showcase?
Maloy: Well, at some point in the evening, I may have a couple of special guests jump up. A couple of members of my old band The Nixons will do a couple of Nixons songs at some point in the evening. I mean, I've got to tell you, these writer showcases, I love doing them. I'll do 'Temporary Home,' which was a No. 1 song for Carrie Underwood. I'll sing a song which, if you know my history, you wouldn't expect this to be attached to my name, but I won a Dove Award last year for a song I wrote with (Christian rock band) Skillet.
OKG: Through the years you've been doing this now, has there been anything about the event that maybe you weren't expecting when you started? Has it become anything more or different from what you had originally planned on it being?
Maloy: I'm not going to say I was surprised because I kind of told people, 'If we can get people to come to this show, they're going to be blown away.' In Nashville, these shows happen two times a night at the Bluebird [Café]. In Nashville, we take it for granted. But I sat there and talked to people after the show. [Local filmmaker and deadCenter Film Festival director] Lance McDaniel came up to me and said, 'Zach, I've never had a musical evening like that in my entire life. I got to hear the song "Bless the Open Road" and got to hear from the person who actually wrote that song.' I think that's what blew me away. People just came up to me and said, 'Oh my God, I think I thought Tim McGraw wrote all of his own songs.' I have a Tim McGraw cut in my catalogue, and I played the song and told a funny story about Tim emailing me and wanting to change the lyrics that were awful and then he said, 'No, I'm just kidding.' You're going to have shows in Oklahoma City, for sure, that are songwriter nights. But not songwriter nights where there is a total of like five Grammys and 50 No. 1 songs. That's the really special thing about it.
OKG: How does this songwriter panel compare to past ones you've brought in?
Maloy: I keep telling people, 'It's the best lineup yet — and don't tell the guys from last year.' But it is a good one. Even when you see the guys, it's going to be a really interesting thing. There's Bob who is this sort of, been-around-awhile, grizzled, hardcore Nashville pro; Travis, who's this regular-looking guy who could be the dad next door mowing the lawn; Jaret, who's got a sleeve of tattoos down both arms and both legs; and then me, a guy who has walked both sides of the fence from country songs to smashing guitars and lighting stages on fire in the '90s. So, it's the most weirdly cool, varied lineup that we've had so far.
OKG: What's one fundamental thing that an aspiring songwriter should know?
Maloy: Well, the long answer is come to the workshops Saturday morning. They're free, and you're going to hear from four successful songwriters and then you're going to get the opportunity to ask questions. We're going to do a Q&A, and last year, it lasted an hour and a half — it was amazing. But the one thing that I do tell people, which is the one piece of advice I heard a long time ago — and I've heard it echoed by everyone from [Green Day's] Billie Joe Armstrong to Tom Douglas, who is a great songwriter here in Nashville — and that is to be creative every day. That doesn't mean write a song every day. I kind of do that because that's my job, but just be creative every day. Billie Joe said he gets up and will pick up a guitar and write a riff and just leave it alone and come back to it maybe a month later. Or he'll sing a melody. And, dude, I've got like 500 voice memos. Sometimes it's, 'Song idea about a circus,' or whatever it is. Be creative every day is the one piece of advice I tell people, but coming to these shows, you're going to have a whole wealth of knowledge at your fingertips.