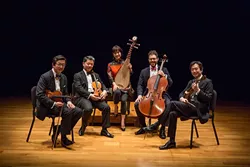 Photo by Ben Doyle, Runaway Productions LLC
Wu Man and Shanghai String Quartet | Photo Ben Doyle / provided
When Wu Man plays a show with Shanghai String Quartet, they're more than colleagues. In some ways, the group is like an extension of her family.
"It's kind of like an old friends reunion, and we've been talking about working together for over 20 years," Man said in a recent interview with Oklahoma Gazette.
Man is one of the planet's best and most celebrated players of the pipa (pronounced pea-paw), a traditional Chinese stringed instrument resembling a mandolin or banjo. The sound of the plucked strings is one of the most recognizable characteristics in many Chinese folk tunes.
She performs with Shanghai String Quartet Jan. 12 at Armstrong Auditorium, 14400 S. Bryant Road, in Edmond. Their program, A Night in Ancient and New China, incorporates multimedia elements and the music of famous Chinese film composer Zhao Jiping to give American audiences a good feel for what contemporary Chinese classical music is like.
Man attended Beijing's Central Conservatory of Music with the quartet's second violinist, Yi-Wen Jiang, and the brother of violist and founding quartet member Honggang Li. The quartet's other featured musicians are first violinist Weigang Li and native New Yorker Nicholas Tzavaras.
While Man and the rest of the program's performers are in their mid-50s or older, Tzavaras is 41. While reflecting on old school days, Man said they sometimes give Tzavaras some good-natured ribbing for being the odd man out.
"We are always joking that Nick probably wasn't born yet," she said.
Modern China
The Jan. 12 program will feature separate performances by Shanghai String Quartet and Man before they team up with for the remainder of the evening. Man said the quartet will start with some pieces of Western music before she performs a traditional, 19th-century pipa piece.
Part of the purpose of the show is to highlight old and new Chinese music and culture.
"We're rooted in so many kinds of traditional Chinese music," Man said. "We wanted to bring that to our audience."
A multimedia presentation helps facilitate the quintet for Raise the Red Lantern, composed by Jiping, whom Man calls "the John Williams of China," and his son Zhao Lin. Video of a traditional Chinese courtyard and other culturally evocative images are played while the musicians go through the composer's work. Man said the idea to incorporate music from Jiping into the performance was a joint effort with the quartet.
"You hear his music and you can see — you have the image in your mind," she said. "We said it would be great if we could bring in some kind of image."
Jiping is known for his work in Chinese films like Raise the Red Lantern and Farewell My Concubine. His musical scores are known for their visceral power, and Man said she hopes the multimedia display helps American audiences feel like they're somewhere in China.
For Man, Jiping's work represents contemporary Chinese classical music, a part of their culture that is sometimes overlooked.
"He kind of represents the modern music scene in China today," she said.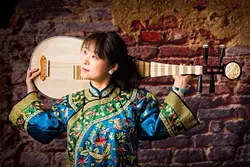 ©2011 Stephen Kahn - All Rights Reserved
Wu Man | Photo Stephen Kahn / provided
Flag bearer
In addition to Shanghai String Quartet, Man also has performed with Yo-Yo Ma's Silk Road Ensemble and San Francisco-based Kronos Quartet. She has been nominated for Grammy Awards several times and was once a featured performer on National Public Radio's popular Tiny Desk Concert series.
Man started playing pipa at age 9 and was considered a young prodigy in the traditional instrument when she entered Central Conservatory at 13. She moved full-time to the U.S. in the 1990s in part to extend her pipa career into realms outside of traditional Chinese music. She has since been one of the instrument's greatest ambassadors.
"There's education elements in my concert," she said. "I have to explain what is the history of this instrument and how we play."
Most Americans, she said, have no idea what a pipa is. While traveling, people in the airport will sometimes will see her carrying the instrument's unusually shaped case and assume it's for some kind of tennis racket.
In China, everyone knows what a pipa is and has an expectation for what it should sound like. Man enjoys the pipa's blank slate for American audiences.
Most of the time, she hears people compare the instrument to a banjo or ukulele — something already familiar to the audience. Man does not mind the comparisons and said she has a lot in common with the players of those instruments.
"If I hear a banjo player I'll think, 'Wow, this guy's left hand is so amazing or his right-hand playing is so amazing,'" she said. "We'll know each other; we definitely have a common language."
Crossing over
Man sometimes hears people say the future of Western classical music is in China. The country is producing many of the best young classical piano players.
As technology improves and information is shared at an even faster rate, cultural and musical boundaries begin to vanish. Almost everyone has a smartphone these days, and any type of music is available to them at all times.
"It's not like it used to be," Man said. "It's so easy to communicate with each other musically. To me, it's important to let audiences know about another culture."
She thinks it is imperative to spread Chinese music to outside audiences as a means of broadening their horizons and, in turn, shrinking the world into something smaller and relatable.
"I think especially for younger generations, they need to know more about outside of where they live so they can survive in the future," she said.
Visit armstrongauditorium.org.
Print headline: Sharing culture, Wu Man and Shanghai String Quartet introduce Western audiences to the pipa.