Jordan Mobley Photography
Halley Reeves is a community health strategist and a 2019 OKG's Forty Under 40 recipient. Reeves earned a master's degree in public health from University of Washington and a master's degree in city planning from Massachusetts Institute of Technology. She is a member of American Public Health Association and American Planning Association.


OKG: Tell Us a little bit about yourself and your year compared to normal years?
Halley Reeves: This year has been one for the history books. It's been a year filled with enormous loss and challenges while also magnifying the many blessings we have – and introduced me to some tremendous Oklahomans. In my role at OU Health, I normally would oversee the health system's community health work. At the beginning of 2020, we had just started our first community health needs assessment and began diving into an analysis of what makes Oklahomans healthy. As we all know, 2020 had other plans for us and normal public health work turned into emergency response efforts. My March and April were filled with exploring alternate field hospital options for the central Oklahoma region in preparation for a potential summer surge that never came. I became acquainted with some incredible folks across the region and through the National Guard working day and night to keep people safe.


My May was colored by a wonderful community collaboration of central Oklahoma health systems (a group called COHIT), the Oklahoma City Community Foundation, and the Oklahoma City County Health Department. That collaboration — in conjunction with the homeless shelter providers in the city — set up a location for people experiencing homelessness to isolate if infected. Some of the most outstanding individuals serve in the city's homeless shelters; they truly have been so quick to do whatever is necessary to protect the Oklahomans they serve.


Throughout the summer, I was privileged to work with some of the nation's leading infectious disease experts through the START Coalition determining ways we could support Central Oklahoma in the battle against COVID-19; we worked to support vulnerable Oklahomans, creating COVID-safe environments, and improving the testing ecosystem. By October, I had joined forces with several OU researchers and the city of Oklahoma City to begin enhancing our COVID-19 surveillance through a robust sewage surveillance effort. That effort continues to expand as we look at new ways to monitor the progression of the disease not biased by the availability of individual tests or willingness of people to get tested. Now, I've come full circle and am active once again with identifying ways to support our frontline staff during the surge currently within our hospital walls.
OKG: As a health strategist, what do you want the general public to know about community health work?
Halley Reeves: Even before the pandemic, Oklahoma — as compared to the rest of the country — faced a healthcare provider shortage. Additionally, Oklahomans experience many worse health outcomes than other states in the nation. At OU Health, we do everything possible to keep our patients healthy and meet them where they are; however, as we've all seen during this pandemic, most of our community health outcomes are the result of things that happen outside of the doctor's office. At a baseline, the life expectancy for the average Oklahoman was shorter than the national average in the years preceding the Pandemic. I worry that the same pre-existing conditions that lead us to shorter lives will also lead us to worse COVID-19 outcomes. With all that in mind, I feel lucky that through my work, I get to engage in the more 'upstream' causes of poor health – which means partnering with so many wonderful organizations and seeing how we can work together to build a more resilient central Oklahoma.
OKG: What have you been doing to maintain composure and to balance your personal life?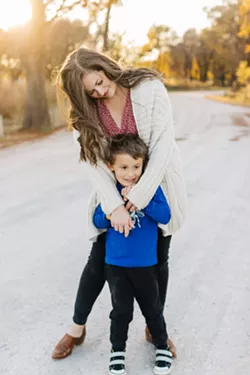 Jordan Mobley Photography
Halley with her son, Bronson Reeves
Halley Reeves: I get up early and exercise. In the evenings, I make time for an occasional walk and play with my kids.
OKG: Who have you been leaning on for support this year?
Halley Reeves: I have been leaning very heavily on my family. My husband, a physician, and I compare notes: he sees the individual impacts and I see the macro community impacts. I think that companionship through this year has been critical to both of us maintaining our sanity.
OKG: How do you stay motivated?
Halley Reeves: I stay motivated because I love Oklahoma and the community here. I have the wonderful privilege of working with highly motivated, caring people at OU Health and absolutely love my coworkers. I also adore the partners I have come to know so well and their energy keeps me going on a daily basis.
OKG: Have you been vaccinated? If so how have you felt?
Halley Reeves: Not yet but I'm ready to take one once I get the call.
OKG: What has been the best thing about your 2020?
Halley Reeves: Collaboration: I have seen non-traditional, cross-sectoral partnerships form that build off of partner strengths and fill in necessary gaps. The resulting solutions not only are efficient in their nature and are well thought out, but meet the need better than they would have if only one group or person had produced them.
Quality People: I have been able to meet and work with so many wonderful individuals who put their own ego aside for the benefit of the community. It is truly some of the most gratifying work to see others excel at making our community stronger!
OKG: Goals for 2021?
Halley Reeves:
Ensure that we have a strong disease surveillance system for the region
Support vaccination efforts however possible
Support decision makers in responding well to the Pandemic
Support our frontline workers as we continue to support people during their most vulnerable times
Look to the future to better develop a more resilient OKC
OKG: First thing you want to do when it's safe to finally do it?
Halley Reeves: Have my extended family over for dinner and a party!