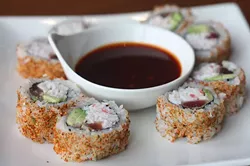 Locally owned restaurant groups are in a real sweet spot.
They combine the kind of branding and attention to detail you might expect from a successful national concept and the service and quality of food you get from local owners.
That's one reason Yokozuna, 1320 Pawnee Drive, #100, comes to Oklahoma City in a great position. As part of The McNellie's Group, the successful owners behind James E. McNellie's Public House, Fassler Hall and Dust Bowl Lounge, Yokozuna brings years of expertise and a menu that's a proven winner.
It's also one of the first eateries in Chisholm Creek, the mixed-use food/entertainment/shopping complex near Memorial Road and Western Avenue that Topgolf calls home.
Inside the restaurant, the color palette turns cool with darkened nooks nestled among the window-lit rooms. The only concern there is the too-small waiting room when you walk inside. In a business that size, the holding area becomes packed quickly with just a few people.
Luckily, Yokozuna has a rooftop bar area that can hold folks waiting for their tables.
Once you're seated, there's a fairly large selection of rolls and entrees to contend with. If it's your first time in, you can stall for time by ordering some steamed buns (two for $6, three for $8).
For the uninitiated, steamed buns, sometimes called nikuman or bao, are tasty little folded sandwiches. The dough is steamed, creating an airy, slightly tacky bread. They are quickly becoming the snack du jour in Oklahoma City, appearing at Goro Ramen + Izakaya, Ocean 81 Sushi Bar, Chae Modern Korean and soon-to-arrive Ur/Bun.
Pork or Sriracha chicken fill Yokozuna's folded buns. The spice level on the chicken is pretty mild. Sriracha-style chili sauces pack a little punch but, when cooked, can make dishes sweeter.
Deal hunters will want to make Yokozuna a Monday night haunt with buns for $1 each 5-10 p.m. They're excellent accompaniments to Yokozuna's cocktail list.
Though I generally don't recommend ordering tacos at Japanese restaurants, I'll make an exception for seared pork belly tacos ($9 lunch, $14 dinner). It includes three tacos of fried wonton shells stuffed with tender pork belly, avocado, green salsa and Asian coleslaw. They're not huge, but they come with tempura sweet potato fries or a house salad.
The menu is filled with great foods to share or look cool eating on a date. These tacos are not among them. By their nature, tacos are kind of messy, and seared pork belly is not the easiest filling if you hope to make a clean bite. There's a little chew to the meat, and the shell isn't structurally sound enough to survive the pulling.
But if you're not worried about looking cool (or if, like me, it's never an option) the flavor is worth a bit of mess. Pork belly is sweet and tender, with fat that melts on the tongue. Mixed with avocado and a surprising spicy salsa, it runs the gamut of flavors and sensations while the crunch of the slaw makes each bite feel more substantial.
While I enjoyed the cooked selections overall, the pork katsu ramen ($10 lunch, $13 dinner) was a letdown.
Taken as parts, it was good. The pork cutlets had a lovely, savory flavor and a nice crunch. The noodles were tasty but hadn't plumped up enough. The soft-boiled egg was, as always, delightful. But the broth just can't compete with other ramen shops in town. It needs to cook longer to gain the full, smooth, creamy quality that makes ramen such a treat.
But the draw of a sushi restaurant is sushi, and this is where Yokozuna shines.
The must-have roll is Geisha's Demise ($10), especially if you are a fan of spice. Inside the roll is seared yellowfin tuna, avocado, wasabi and imitation crab. Outside, the rice is covered in ichimi pepper, which brings a lot of heat. As much as I love the traditional dip in soy sauce, Geisha's Demise comes with its own dipping liquid — the aptly named sweet evil sauce.
The fat of the tuna and the creamy avocado find a stiff counterbalance in the wasabi, which brings a searing nasal heat. The ichimi pepper and sweet evil sauce, on the other hand, keep pouring pressure on the mouth and tongue, leaving the diner nowhere to run. It's torture, and I will order one every time I go in.
There's less heat in The 405 Roll ($11), but plenty of flavor. The filling is seared albacore tuna, cucumber, roasted red pepper, pickled red onion and jalapeño. On top of the roll is avocado, garlic aioli and fried onions.
The overwhelming feeling with The 405 Roll is freshness. Tart pickled onions and roasted peppers play off the cool crunch of the cucumber and the subtle tuna. The toppings are pure decadence, especially the crunchy sweetness of the fried onions.
The value winner is the $6 veggie roll. A simple cucumber roll is nice enough, but the blend of textures and flavors in Yokozuna's veggie roll is a delight. Cucumber and asparagus are the backbone. Avocado and red bell pepper provide the flavor. And the sprouts are the perfect vehicle to soak up and deliver soy sauce to your mouth.
Oklahoma City's sushi game was already strong, but the addition of Yokozuna means competitors have to bring service and style up to snuff to survive. The more options available, the better consumers can choose price, quality and comfort that suits their needs.
With The McNellie's Group behind it, you can be sure Yokozuna is staying in the metro for the long haul.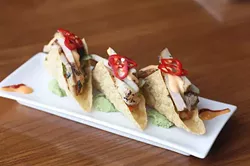 Print headline: Belly up, Tulsa sushi king Yokozuna's OKC opening means local sushi bars need to up their game.