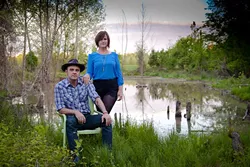 Woody Guthrie died almost 50 years ago, but for the past 18 years, the Woody Guthrie Folk Festival has kept his spirit alive.
Held in Guthrie's hometown of Okemah, the event, also known as WoodyFest, hosts artists from across the nation and fans from around the world. When it began in 1998, it was free to everyone, but this year's WoodyFest, held Wednesday, July 8-Saturday, is the first to require tickets.
According to Karen Zundel, secretary of the Woody Guthrie Coalition Board of Directors, it was difficult to put on a free festival for the past three years.
"This year, we put a lot of thought into how we could either reduce expenses or increase revenue," Zundel said, "and really, the only solution seemed to be to charge an admission fee."
Three-day passes are $75 and include entry to the Crystal Theater and evening performances at Pastures of Plenty.
Zundel said the festival still offers many free activities and live shows.
"We added a lot of additional free music," Zundel said, "so people will still get a lot of bang for their buck or more music for their money. People could still come and listen to a lot of music without paying any kind of a fee."
Events at Brick Street Cafe, the Community Improvement Association (CIA) tent and the annual Sunday Hootenanny remain free. Along with a weekend full of live music, WoodyFest also offers Guthrie lectures and presentations, artist meet-and-greets, poetry readings, an open mic at Lou's Rocky Road Tavern and the annual pancake breakfast with Guthrie's sister, Mary Jo Guthrie Edgmon.
Saturday morning, Edgmon hosts a pancake breakfast at Lou's Rocky Road Tavern, and proceeds go toward the Huntington's Disease Society of America. Woody Guthrie died due to complications from the disease. Zundel said some musicians make an appearance for spontaneous performances during the meal.
"You never know who's going to show up and play one or two songs," Zundel said, "so it's really fun. That's something that I never miss at the festival."
This year's WoodyFest features annual performers such as The Red Dirt Rangers, David Amram and Ellis Paul. According to Zundel, the concert committee tries to create the lineup with as many new bands as they can while keeping the regulars.
"I think [the concert committee tries] to satisfy the fans as far as bringing back the old or long-time favorites while also bringing in some new artists," Zundel said. "I know this year, there's quite a few acts I have not heard before. So we should be hearing lots of new music."
Some newcomers this year include Wild Ponies and singer-songwriter Rod Picott. Both hail from Nashville, Tennessee.
The Wild Ponies duo, Telisha and Doug Williams, used to perform under their first names, but after their 2013 record Things That Used to Shine, they switched. Telisha is originally from Virginia, and her husband is from North Carolina. Wild ponies roam the Outer Banks of North Carolina and Mount Rogers in Virginia, and Telisha said the name is fitting.
"We just thought the wild pony really kind of described what we did, like it's a little bit rugged, independent and scraping by," Telisha said.
Wild Ponies' music resonates like Americana and features sounds from old-timey music with influences from rock 'n' roll. Doug and Telisha said they've heard of WoodyFest before and have friends who played at it but they're excited to share their music this year.
"We've kind of taken on this new thing that all of our music should be music that matters, like social messages," Doug said. "So artists like Hazel Dickens and Woody Guthrie, people who kind of came before and made sure when they wrote a song, it meant something; those are big heroes to us."
Picott grew up in Maine but has lived in Nashville for 20 years. He received his first guitar at age 12 and started writing songs at 16. He describes his sound as literate roots music, and he considers himself a songwriter more than a musician because he uses his guitar to communicate his writing.
"I feel like if I could move, if I was going to move left or right, I would move towards poetry or maybe writing a novel or journalism as opposed to a different instrument," Picott said. "I'm coming at it from a writing point of view more than a music point of view."
Picott is working on a new record titled Fortune, which will be released Aug. 14. The album is different than his previous work. Instead of writing narratives about other people's lives and blue-collar experiences, Picott said his new work is more intimate.
"I sort of turned the lens around and pointed it at myself and my own life a little bit more," Picott said. "It's a more personal record."
Picott said he's happy he was invited to play alongside great musicians such as The Damn Quails, John Fullbright and Brandon Jenkins.
"When I look at the lineup, I feel like I'm seeing my compatriots, people whose world I belong in," Picott said. "So I'm looking forward to seeing friends and people … It's like the whole tribe is there at one time. I'm really excited about that."
Picott performs 3 p.m. Thursday at Brick Street Cafe. Wild Ponies take the stage 3 p.m. Friday at the cafe. Free concerts start Wednesday, July 8, with Andy Adams.
Buy tickets for the festival at woodyguthrie.com.
Print headline: Hometown music, WoodyFest will charge admission for the first time ever, but the lineup makes it all worth it.