provided
Last year's Tinkerfest set a single-day attendance record with more than 7,400 visitors to the museum.
Of the many cars expected at Science Museum Oklahoma for this year's Tinkerfest, two will be completely taken apart. Clint Stone, vice president of programs at the museum, said the free event, now in its second year, is designed to give visitors, especially children, the chance to see the science behind everyday objects and experiences and "try something they may not have had the opportunity to, things they've been curious about."
"We spend a lot of times in cars," Stone said. "We may not know exactly all the little components of that car that make it work from as simple as what makes it go to what makes the windows roll up and down. So a great way of figuring out how something works sometimes is taking it apart, and we don't have the opportunity to take cars apart generally. At Tinkerfest, families can take apart that door, and they don't have to worry about getting all the pieces back to make that window go up again. They can take the whole car apart to figure out how it works."
Visitors will have the chance not only to help dismantle an automobile, but to try their hands at dog-house building, candlemaking, origami, resin casting, foil sculpting and many more activities that provide a different perspective on science, art and day-to-day life.
"We like to say it's taking your own experiences, building on those experiences and then just going a little bit further," Stone said.
While some activities involve mixing chemicals and other tasks people typically associate with the laboratory, many of the exhibits show science's practical applications.
"There will be a little bit of what people associate with chemistry that they see or what they may picture when they think of science," Stone said, "but really science is everywhere. It's figuring out how things work and making things work better."
An exhibit hosted by Oklahoma Bicycle Society offers interactive instruction in bicycle maintenance to "get kids interested in working mechanically," Stone said. An exhibit hosted by the organization For Inspiration and Recognition of Science and Technology (FIRST) uses Lego building blocks to help demystify some science, technology, engineering and math concepts used in robotics and programming. Another exhibit, Ethan Builds, was designed by a boy "about 8 years old" and uses the plastic blocks to impart lessons in human empathy.
"It teaches youth how to build using LEGOs, but when they're using LEGOs, they're looking at character principles," Stone said. "His idea behind this is the concept to fight bullying … letting kids know when they're little, 'Hey our actions can hurt others.'"
provided
Tinkerfest is 9 a.m.-4 p.m. Sept. 29 at Science Museum Oklahoma.
Serious tools
One of Tinkerfest's primary objectives, Stone said, is to give visitors up-close and personal experiences with concepts and activities they've previously "been intimidated by," whether that's taking something apart to see how it works or learning to use a equipment they've been told not to touch.
"We have Boston's Children Museum coming in with an activity called Soldering Is for Everyone," Stone said. "It's one of those things that, when you're young, you're told, 'Oh, that's hot. That's dangerous,' and sometimes tinkering is trying things with real tools. There are real risks when using real tools, but there are also real rewards. So when we designed this event, we're able to create these experiences but also put safety first."
By providing a safe, controlled environment where visitors can satisfy their curiosity, Stone said, Tinkerfest will hopefully encourage further exploration and interest in science and related fields. Event sponsor Oklahoma EPSCoR (Established Program to Stimulate Competitive Research) is a program initiated by the National Science Foundation to improve the state's prospects for receiving research and development funding.
"A great way of doing that is to create these experiences when children are young to take away any barriers they may see between them growing up and one day being a scientist," Stone said. "I think kids are more curious than we are as adults, which is wonderful."
Area organizations, educators, scientists and local creators were invited to submit pitches for potential exhibits for this year's event, and Stone said, and they were selected based on several criteria.
"We looked at, 'What can be gained from this experience?'" Stone said. "'Is it interactive? Can I participate in this? What science is included in this?' We also looked at, 'How safe is this? How many people can participate?'"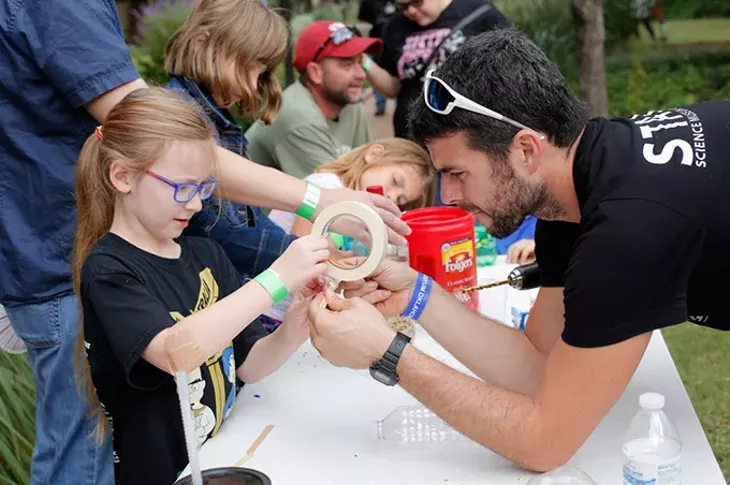 provided
Admission to Tinkerest and all of the museum's regular exhibits that day is free.
Moving activities
Last year's Tinkerfest drew more than 7,400 people to the museum, setting a single-day attendance record. Accommodating that many visitors is a science in itself.
"This is something we meet about and plan for regularly," Stone said. "We will have events indoors as well as outdoors. There are activities you can participate in before you even come into the building. There will be activities in all different areas of the building as well as the garden. With so many activity stations, people keep moving. We have a wonderful team here who's watching, working on how we can help guests moving, finding the next activity, also letting guests know where there may be some activities that don't have as many participants around them as others. Many of these guests will come and spend a couple of hours with us then go, so we keep an eye on where everybody is and making sure they have access to food, drink, the restrooms, activities, and it's a lot of active participation on our part, a lot of watching. … We have so many systems in place like that to make the day run smoothly. We like to control the variables."
Creatively applying scientific principles is what Tinkerfest and the museum itself are really all about.
"The intersection of science and art is huge," Stone said, "and this is where a lot of innovation comes from. A lot of the times, art influences science and science influences art. Look at 3D printing; it's a great way in which science and engineering have had a huge impact on art. Then you look at the world of science fiction that's a big place where art has influenced science, so there's this wonderful dance between the two where they keep carrying each other along, which is fantastic."
Admission to the festival and all of the museum's regular exhibits is free. Auxiliary parking will be available at Remington Park, 1 Remington Place, with shuttle service 9:30 a.m.-6 p.m.
Visit sciencemuseumok.org.