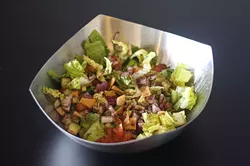 Yümmy Mümmy is so adorable, it's almost hard to believe it's local.
The logo is a cute cartoon mummy who looks a bit bewildered by all the attention. One wall of the restaurant, 13415 N. Pennsylvania Ave., features reproductions of Egyptian antiquities. Even the name is clever, memorable and endearing.
Yümmy Mümmy is the brainchild of owner Mohamed Hussein. When he opened the eatery in 2016, the plan was to offer only two kinds of sandwiches: beef mummy wraps and chicken mummy wraps.
But customers like options. So he expanded the menu little by little, filling some holes and making Yümmy Mümmy more of a full-fledged restaurant.
Having tried many of the new additions, I'm glad Yümmy Mümmy stretched the menu a bit. But I'd still recommend anyone give it a try based on those first two wraps.
As amusing as the names are, the beef mummy wrap ($7.49) and chicken mummy wrap ($6.49) contradict everything I assumed I knew about eating a mummy. Namely, they weren't dry and chewy.
I'm not sure why beef seems an odd choice for a wrap, but the meat used at Yümmy Mümmy is marinated to keep it moist and flavorful. A beef mummy wrap also includes tomatoes, parsley and red onions, which give each bite a bit of snap and keep it feeling fresh, along with mozzarella cheese and tahini for a creamy, decadent texture.
Tahini is sauce made from ground sesame seeds and oil, and it's a staple in Middle Eastern cuisine. It can be mildly bitter, but it also adds nuttiness to dishes (including hummus), and it gives the beef mummy wrap another dimension of flavor.
I ate this sandwich like a monster, which is keeping with the theme.
The same thing happened to the chicken mummy wrap, which is an even simpler combination of seasoned pulled chicken, parsley, mozzarella, garlic sauce and pickles. The chicken hides a little snarl of spice that pounced on my taste buds and wouldn't let go.
The real kicker were the pickles, oddly enough. Like so many dishes, this wrap really benefits from a contrast flavor. The heat of the chicken and the texture of the cheese and mayo need the sour crunch of the pickle to set them off.
Anyone trying to steer clear of meat will be pleased with a veggie mummy wrap, which is similar to the beef mummy wrap but with falafel in place of meat. Falafel are fried patties made from ground and seasoned chickpeas.
The wraps don't come with a side, but I highly recommend skipping the perfectly serviceable french fries and opting instead for an order of spicy potatoes ($2.99). They're simple roasted potatoes, but Yümmy Mümmy tosses them with a secret spicy recipe seasoning and fresh herbs. The potatoes on top are lovely, but as you reach the bottom of the basket, the heat and flavors intensify and every bite gets better.
The heat snuck up on me in Yümmy Mümmy's lentil soup ($4.99), but it was glorious. The creamy orange soup made with lentils, potato, carrots, tomato, onion and garlic is a perfect first course on some of Oklahoma's recent frigid evenings, especially with its slow-building spice. It's not a heavy soup, but it keeps one feeling satiated long after the meal is over.
Not everyone is quite so enamored of spicy dishes, which makes King Tut's salad ($5.99) all the more appealing. It's not a terribly complex mixture — lettuce, cucumber, green pepper and red onion mixed with a mint vinaigrette — but it's light and has a tartness that cuts through some of the other, richer flavors that tend to dominate the palate. Fried pita bites add texture and soak up some of the vinaigrette, so you get little pops of added flavor as you eat.
Those same fried bread pieces find their way into another dish on the other end of the flavor spectrum. Chicken fatta ($6.49) is a rice bowl topped with shredded, marinated chicken; pita bites; and a dollop of garlic sauce. Though it's delivered to the table in a neat little stack, it must be mixed up by hand for maximum enjoyment.
The jasmine rice is warm and filling, each grain cooked perfectly to keep it light and fluffy. It soaks up a bit of the marinade from the chicken, which spreads the flavor throughout the dish. Garlic sauce acts as a natural adhesive, holding pieces of chicken, pita bites and rice together so every bite is a little different while still giving the diner a taste of all the ingredients. Texturally, it's a joy. The meat has a tender chew, the rice is soft, the pita is crunchy and the garlic sauce is smooth.
I'm not sure how prevalent Tex-Mex is in Egypt, but the Egyptian quesadilla ($6.99) would be a welcome addition to any cuisine. It's a simple tortilla folded around ground beef with secret spices, grilled and served with a side of fries.
The ground beef has an aromatic quality and texture that's different from the marinated beef in the beef mummy wrap. It had a hint of cinnamon, I think, and reminded me of the spiced Greek chili served at Coney Island.
Yümmy Mümmy proudly serves fresh-squeezed lemonade ($2.99) in a variety of flavors. I tried Mintal Madness, which is simply lemonade with fresh mint, and Love Potion, which mixes wild berries with lemonade. Mintal Madness was the more tart of the two but also a bit thinner texturally.
Watching the crushed berry juice swirl about the glass of Love Potion was captivating, as was the flavor, which is sweeter and makes it a bit easier to drink.
There will be a next time, no doubt. Hussein and the rest of the Yümmy Mümmy crew have a winning formula on their hands. The food is better than the name and concept, and that's a feat in and of itself.
Print headline: Food pyramid, Yümmy Mümmy surpasses its cute premisewith healthy, hearty Egyptian wraps and entrees.